Champions League: Bayern Munich's Arjen Robben's best spell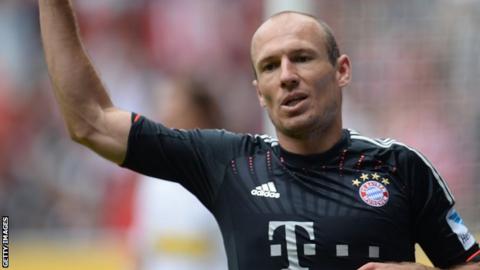 Bayern Munich midfielder Arjen Robben says he is enjoying the "happiest" spell of his career as his side aim to win the Champions League final.
Robben's team face Bundesliga rivals Borussia Dortmund at Wembley on Saturday, having lost last season's final to Chelsea on penalties.
"It is always easy to be happy if you are successful, if you play finals, if you win titles," said the Dutchman, 29.
"It is very easy to say I am happiest at the moment."
Robben, who joined Bayern in August 2009 from Real Madrid, has been a key member of their Bundesliga title success this season and has helped them reach the German Cup final against Stuttgart on 1 June.
The midfielder, who missed a penalty in extra-time of last season's European final, has made 27 appearances for the Germans this season, scoring eight goals.
He said: "I have been at great clubs before, like Chelsea, like Madrid and in Holland, and you always have very good periods in your careers and some disappointments.
"We have seen over the years the Bundesliga has improved a lot, we see a very good development. It is quite impressive.
"At national team level is it so easy because they have so much talent. If you see their national team, not just the starting 11 but the bench, I think a lot of them would play in another national starting 11.
"In club football, I can't look at all the German clubs, but in general you see the development and level of football that has improved over the last two or three years. The intensity, it is physically very strong and the proof is this season in Europe as all the teams have done a great job."
Meanwhile, former Arsenal midfielder Alexander Hleb, 32, believes the Bundesliga is now level with the Premier League in being the best in the world.
Bayern and Borussia Dortmund contest the first ever all-Bundesliga Champions League final on Saturday night with Hleb, who played for German side Stuttgart for five years, insisting the league has made big strides forward.
"German football is coming up every year more and more. Together with the English, it is the best in the world," said Hleb who was a member of the BATE Borisov team which beat Bayern in the Champions League earlier this season.
"The two teams present the best football, different, but the best. It is difficult to say who wins, both are fantastic teams.
"Germany always tried to be best in everything. In football, they have made big, big steps A lot of young players are already big stars."