Champions League failure disastrous - Umberto Gandini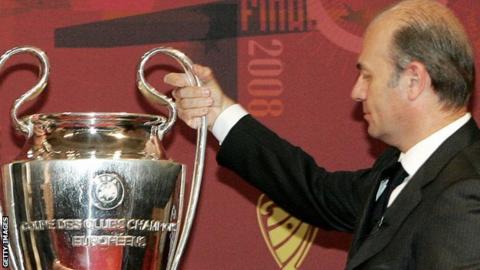 Failure to qualify for the Champions League could be a "financial disaster" for clubs, according to AC Milan director Umberto Gandini.
By finishing fifth, Tottenham missed out on a possible £4.5m from the group stages, with Chelsea receiving a total of £51m for their winning run in 2012.
"Had we not qualified it would have been a financial disaster," Gandini told BBC Sport.
"Such a disaster could affect most clubs."
AC Milan took the third, and last, Champions League berth afforded to Serie A sides on the final day of the season thanks to Philippe Mexes's goal three minutes from time that gave the Rossoneri a 2-1 over Siena.
"We still have to navigate the play-offs," continued Gandini, who was in London at the Uefa Congress.
"Winning that tie is the difference between having an extra 30m euros or not. There's so much at stake - a fifth of our budget."
The winners of this year's Champions League final between Bayern Munich and Borussia Dortmund will pocket just over £9m plus all the money accumulated from the previous rounds. The 2012 Europa League champions Atletico Madrid collected only £9m in total for their entire efforts during that season's competition.
Gandini, who is also vice-chairman of the European Club Association - a body that represents European clubs' interests, says he is hopeful that the disparity of the possible earnings from both competitions can be reduced in the future.
"This is something that will be mentioned at the next European Club Association meeting when we start to talk about new financial distribution models for the 2015-18 Uefa cycle," added the Italian.
"We will look to reduce the financial gap in various ways with perhaps a more even distribution of monies between both competitions so that it lessens the impact on the Europa League teams who fail to qualify for the Champions League."
Uefa has already made one major change to their competitions with the announcement that from 2015 onwards the winner of the Europa League will qualify for the Champions League.
Meanwhile, Gandini said that the position of AC Milan manager Massimiliano Allegri was still being discussed.
Allegri's role has been under scrutiny during the season by both the Italian media and fans, especially during the early part of the season when the side were stuttering in mid-table.
"It is a complex situation," the Milan director said.
"Both Adriano Galliani (chief-executive) and Silvio Berlusconi (president) are discussing all aspects at the moment. But a decision will be made very quickly if one needs to be made."