Bury chairman Brian Fenton resigns ahead of takeover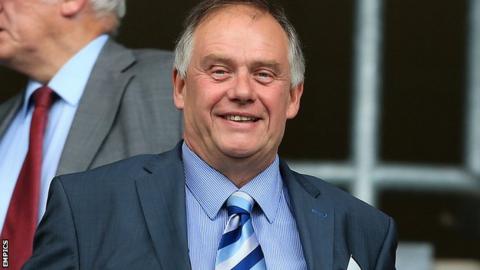 Bury chairman Brian Fenton and the club's board of directors have resigned as a takeover nears its conclusion.
The identity of the new board should be revealed by Wednesday, once the formalities of the deal are completed.
The Shakers, who were said in April that they
Manager Kevin Blackwell has been assured that the new board "support him 100% in his vision of returning Bury to the position it deserves".
Bury were last season after taking short-term loans from the Professional Footballers' Association to solve cashflow problems, leaving Blackwell with a threadbare squad as he battled to save the Shakers from the drop.
At times late in the campaign, Blackwell was only able to name two of his permitted seven substitutes.
Bury on Wednesday, having less than 24 hours earlier, and presently have only eight players contracted to the club for next season.
The takeover at Gigg Lane will allow wages, Revenue & Customs and loans obtained from the Professional Footballers' Association to be fully repaid.