Manchester United: David Gill elected to Uefa committee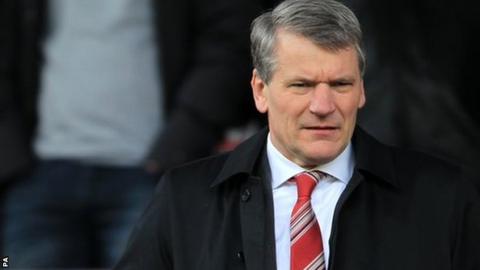 Manchester United's outgoing chief executive David Gill has been elected unopposed to the Uefa executive committee.
Portugal's Fernando Gomes withdrew from the election at Uefa's Congress in London.
That left eight candidates for eight seats and Gill and seven others were elected by acclamation for a four-year term.
Gill will leave United on 30 June after 16 years with the Old Trafford club.
"I'm very pleased," he said. "For the Football Association to ask me to stand a few months ago and for all the work we've done to come to fruition, it's an honour to represent the FA on Uefa going forward."
The 55-year-old joined United in February 1997 as finance director before becoming chief executive in 2003. He will remain a director of the club.
In October 2012, Gill became the vice-chairman of the Football Association and has also served on Uefa's Professional Football Strategy Council and Club Competitions Committee.
Gill's exit as United chief executive coincides with the retirement of manager Sir Alex Ferguson, who has stepped down after almost 27 years in charge at Old Trafford.
Ferguson, who won 38 trophies in his time as United boss, could now be offered a role with Uefa.
"I think something will happen," said Gill. "Alex has been in the game for so many years, we've got to use that wealth of experience, whether it be on the technical side, the advisory side or the coaching side
"As we all know, he's not going to sit at home with his slippers on. He'll be out there doing things and playing a role still within football."