Scunthorpe United: Peter Swann appointed chairman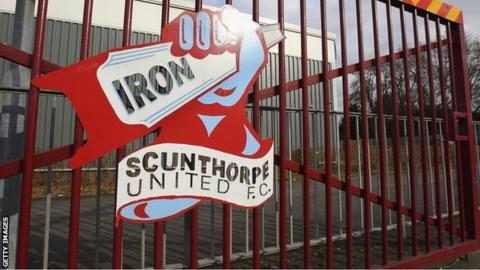 Scunthorpe United have appointed Peter Swann as their new chairman to replace Steve Wharton.
Wharton, who became chairman in 2004, retired with immediate effect after the Iron's final game of the season.
Scunthorpe were relegated last month after finishing 21st in League One.
Swann told BBC Radio Humberside: "I'm absolutely delighted. I've known everyone here for the last five years and we've worked together on various projects."
Director Dennis Hobson, who joined the club's board earlier this year, has reacted angrily to the appointment as he believed the position was promised to him.
James Powell of Walker Morris, the law firm representing Hobson, said: "We're perplexed by the behaviour of Scunthorpe United Football Club's board of directors, which has led this morning to the election of Peter Swann as the Iron's new chairman.
"Dennis is extremely concerned that the other directors have refused to focus on key objectives for the club.
"I do not think I have seen such a strange and perverse set of events in any football club boardroom.
"Dennis is a self-made businessman who understands professional sport. He is also committed to making a long-term sustainable investment in Scunthorpe United, with a properly constituted proposal document."
Swann, who has left a similar position with Blue Square Bet North side Gainsborough Trinity, has said he would be willing to work with Hobson.
"The board have made their decision and I'm glad I'm the man at the helm," he added.
"It could have been handled better but the decision has been made and it's been decided that I'm the best man for the job.
"He's going to be disappointed but I will try to work together with whoever I can but it has to go two ways. If that's the case then great."