Rangers: Charles Green cleared of close links with Craig Whyte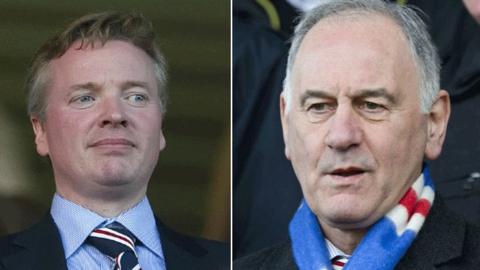 Former chief executive Charles Green will be cleared of having close links with former Rangers owner Craig Whyte, BBC Scotland understands.
An internal investigation, lasting more than a month, commissioned by Rangers into their business relationship has reached a conclusion.
It followed allegations by Whyte that he colluded with then chief executive Green to purchase the club's assets.
Green had resigned his post in the wake of the publicity surrounding the claim.
Whyte's claims of collusion caused concern with fans and other board members due to his troubled reign at Ibrox.
The venture capitalist led the club into administration after failing to pay PAYE and VAT - a move that led to the Scottish FA finding him guilty of bringing the game into disrepute.
The report, carried out by law firm Pinsent Masons, forensic investigators Deloitte and aided by Roy Martin QC, is due to be published at some point next week.
It investigated events following Rangers' move into administration last year after Whyte said he still has a claim over the club's assets - something Green has always denied.
Key figures involved in the day-to-day running of the Ibrox club were interviewed.
However, it is unclear to what extent Green and former commercial director Imran Ahmad, who also resigned in the weeks after Whyte's allegations, co-operated.
Whyte and his business partner, Aiden Earley, were asked to participate but refused after consulting their lawyers.
The team of investigators searched computer files, mobile phone records and asked for written statements for the report that is due to be published at some point next week.
Attention may now turn to the cost of the investigation, which is understood to run well into six figures.
Rangers, though, are hoping the inquiry will go some way to providing clarity after weeks of uncertainty.