Johnny Hunt and Joe Clarke sign one-year deals with Wrexham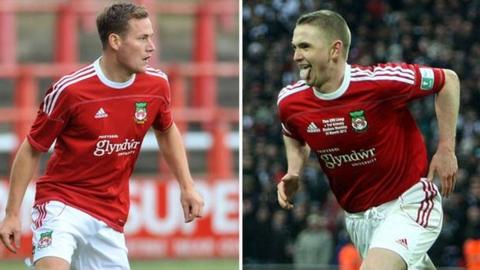 Wrexham have re-signed Johnny Hunt and Joe Clarke on one-year contracts.
The signing of the midfield pair brings to nine the total of out-of-contract players to agree new deals.
And the club, who lost 2-0 to Newport in the Conference play-off final, are hopeful of making it 10 with the signature of defender Martin Riley.
"There's unfinished business," said Hunt. "There'll be no better feeling for me than getting Wrexham out of this league."
The heartache of that Wembley defeat is also a motivation for Clarke, whose previous contracts at the club have never been longer than six months.
"It was the worst moment in football that I've ever experienced," he said.
"But there's still a job to be done. Wrexham's a great club with a great fan base and it deserves to be in the Football League."
The 24-year-old has been at Wrexham since the summer of 2011, initially playing for expenses on a non-contract basis.
"I was happy to sign six-month contracts before because I had confidence in my own ability," added Clarke.
"Ultimately I knew I'd end up being a vital member of this squad, though obviously it helps to have a 12 month contract."
Wrexham's failure to secure promotion had sparked fears of an exodus among out-of-contract players.
However, so far only striker Danny Wright has left, joining Forest Green Rovers.
And with chief executive Don Bircham promising funds for manager Andy Morrell to maintain a strong squad, the club are confident of securing Riley's signature once the player returns from holiday.