Mali to report Carteron to Fifa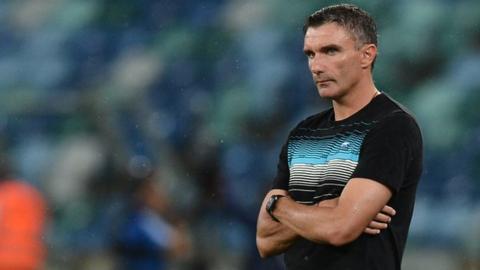 Mali's Football Federation says it will report national team coach Patrice Carteron to Fifa for breaking his contract to join TP Mazembe.
The 42-year-old Frenchman has signed a two-year deal with the DR Congo side despite being under contract with The Eagles until July.
Carteron has offered to stay in charge of Mali for two World Cup qualifiers.
But Mali FA vice-president Moussa Konate said: "We have no choice but to take this matter up with Fifa."
Mali are tied at the top of their qualifying group and, with two home games again Rwanda and Benin up next, are set to place themselves in a good position for a serious tilt at a first World Cup place.
Carteron, whose decision to leave has caught Mali by surprise after he took them to third place at the Africa Cup of Nations in February, said he would oversee the team for June's matches before he departs.
"It seems the respectful thing to do because I was the one who picked the squad," Carteron told French radio on Friday, saying he had intended to resign after the qualifiers in any case because of the political instability in Mali.
"My departure leaked out to the media and accelerated the process but I defer to the Mali federation as to whether they need me for the two games."