Coventry City bidders given takeover deadline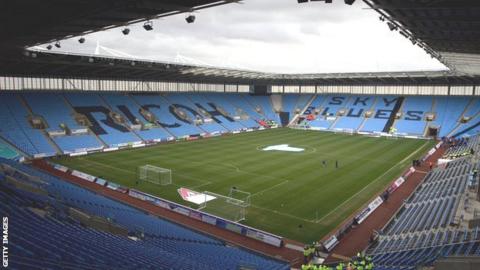 The joint-administrator for Coventry City has said any party interested in taking over the troubled club has until the end of next week to make a bid.
The League One club have been in administration since March when they were deducted 10 points by the Football League following a high court hearing.
"I have spoken and met with a number of parties who have expressed an interest," said Paul Appleton.
"I have set a deadline of 31 May for indicative offers from those parties."
Appleton had previously admitted that the job of trying to offload Coventry City has been made harder by continued confusion over the ownership of the Golden Share, which entitles membership of the Football League.
The Football League ruled that the division of the club that went into administration, Coventry City FC Limited, were the owners of the Golden Share, hence the 10-point penalty.
But the club's current owners Sisu had argued that it was actually Coventry City Holdings Ltd, who were not in administration, that actually held the club's assets and staff contracts, and should have been the ones dealing with the Football League.
Sisu initially appealed against the decision to deduct the club 10 points, though later withdrew its complaint.
In his statement, Appleton attempted to clear up the confusion.
"I now believe the registration of the Golden Share lies with Coventry City FC Limited," he said.
"Holdings believe they have a beneficial ownership of the Share given the level of investment they have made and the fact the players contracts are in their name, together with many other important elements.
"This has seemingly been endorsed by the Football League who have completed all current player registrations in the name of Holdings.
"Should Holdings maintain their claim to a beneficial ownership of the Share, ultimately only the Court can overturn that."
So far, the only confirmed bidder for the club is American tycoon Preston Haskell IV but his consortium's deal depends on acquiring this Golden Share.