David Beckham: Former England star's playing career officially over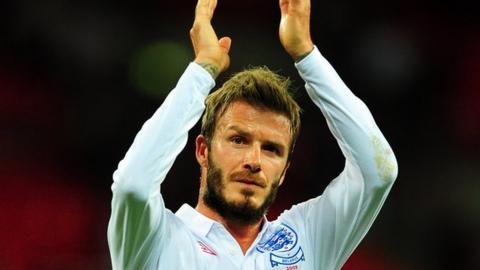 David Beckham's illustrious 20-year playing career is at an end after he was not named in Paris St-Germain's squad to play at Lorient on Sunday.
Beckham, 38, walked off in tears after last weekend's home win against Brest, days after announcing his retirement.
The ex-England captain gained 115 caps for his country, and also played for Manchester United, Real Madrid, Los Angeles Galaxy and AC Milan.
Beckham joined Paris-St Germain on a five-month deal in January.
He played 14 times in all competitions and helped the French side to their first Ligue 1 title in 19 years. Beckham also started the first leg of the Champions League quarter-final match against Barcelona.
"I want to say thank you to everybody in Paris - to my team-mates, to the staff, to the fans," Beckham said as he addressed a Parc des Princes crowd including wife Victoria and former French president Nicolas Sarkozy after the final whistle against Brest.
"It's been very special to finish my career here. It could not have been any more special.
"I just feel that it's the right time to retire. I feel I've achieved everything I could. I wanted to go out as a champion.
"I've finished my career in a team that has treated me like I've been here for 10 years."
The game last Saturday was briefly halted as Beckham, captain for the night, was substituted after 81 minutes, with his team-mates gathering in the middle of the pitch to applaud him.
Speaking after his emotional exit, he cast doubt on the prospect of featuring at Stade du Moustoir against Lorient because of fears about their plastic playing surface.
He also expressed a concern it could cause a recurrence of an Achilles injury he suffered while on loan at Italian side AC Milan in 2010.
His absence against Lorient means Beckham ends his career having won 19 major trophies. His 10th and final league championship, claimed with PSG, saw him become the first Englishman to win titles in four different countries.