Champions League final: Arjen Robben glad to shed 'loser' tag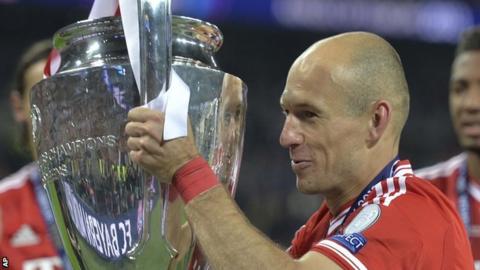 Arjen Robben says his winning goal in the Champions League final for Bayern Munich against Borussia Dortmund has avenged past heartbreak in his career.
The 29-year-old had lost two previous European finals, missing a penalty in last year's defeat by his former club Chelsea, but hit the winner at Wembley.
The Netherlands international was also on the losing side when Spain won the 2010 World Cup final in South Africa.
"You don't want the stamp of a loser," said Robben after Bayern's 2-1 victory.
"There was all the disappointment of last year but I personally also had the World Cup. That was three finals.
"It wasn't so much pressure. I tried to make it into positive energy. I couldn't start thinking negatively, otherwise it would be too difficult.
"Tonight I scored the goal. We did it and we can forget about the other things."
Bayern took the lead in the all-German final when Robben pulled the ball back from the byeline for striker Mario Mandzukic to tap in from close range.
Dortmund equalised when Ilkay Gundogan scored from the penalty spot after Dante fouled Marco Reus before Robben's 89th-minute decider.
Bayern boss Jupp Heynckes admitted afterwards the tag of being favourites was behind his side's poor start and that he "made some corrections" at half-time.
The 68-year-old will leave the club at the end of the season to be replaced by Pep Guardiola but he could finish off with the Treble.
Bayern contest the German Cup next weekend and could add that crown to their German league and Champions League successes.
"We have to be cautious," said Heynckes, who also suggested striker Robert Lewandowski will be joining Mario Gotze in leaving Dortmund for Bayern.
"My successor will be able to take over a perfectly functioning team.
"We know Mario Gotze will be joining us and I don't think Robert Lewandowski will be hanging about too much either.
"Of course Bayern Munich will have to prove they can continue to achieve these things but possibly a new era might have begun for the club."
Bayern right-back and experienced Germany captain Philipp Lahm admitted his side's defeats in the 2010 and 2012 Champions League finals had weighed heavily on the players.
"It's incredible. A huge joy and huge relief," said the 29-year-old. "The pressure was enormous after losing in the Champions League final twice.
"We all felt that in the first 20 minutes but after that we played much better.
"If we lost a third final we didn't know if we'd get another chance even though the club is in good shape and we're all in the prime of our careers.
"The pressure was big all day but it was really enormous when the match started, something I've never experienced before.
"We said that if we want to be the golden generation then we have to win some international titles. That's what people remember. Finally we succeeded in getting that."