Champions League final: German superiority over Premier League

By Phil McNulty
Chief football writer
Last updated on .From the section Football339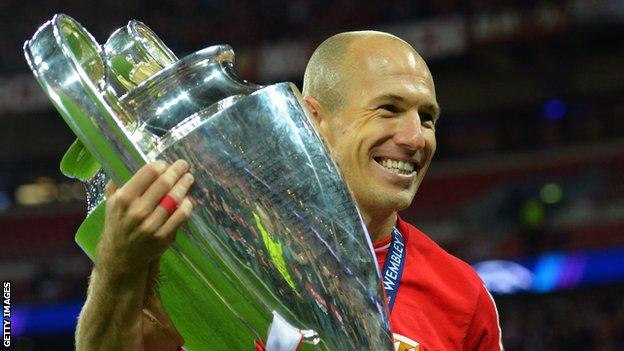 At Wembley
Bayern Munich's massed ranks of red celebrated avoiding the fate of losing their third successive Champions League final with a rousing rendition of an old England classic.
The Euro 96 anthem "Football's Coming Home" was one of the souvenirs Germany took away with them - as well as the trophy - in that memorable summer.
And it was back again on another sunny Wembley night of vindication for Bayern, match-winner Arjen Robben and that country's great coaching statesman Jupp Heynckes.
The facts are bare. Bayern Munich cleansed the wounds of Champions League final defeats to Inter Milan in 2010 and, in their own imposing Allianz Arena to Chelsea in 2012, with a
It gave the Bavarian giants, the beast that once spawned the nickname "FC Hollywood", a fifth win in this tournament. They are level with Liverpool and only Real Madrid and AC Milan are above them.
Scratch underneath those statistics, however, and this magnificent Champions League final was more than just a showpiece, it was a showcase for the Bundesliga. It was a demonstration of the shift in European football's domestic balance of power.
Football was not coming home at Wembley on Saturday evening. It was paying a visit because if it lives anywhere at the moment it lives in Germany. And this was the pulsating proof.
After beating Barcelona and Real Madrid in the semi-finals, the teams lived up to the expectations of a final that was gripping from first to last. It was a credit to the players, coaches and the domestic league they have dominated in recent years.
If this was catharsis for Bayern, the presence and pride of Dortmund only added to the impression that this was a demonstration of strength from the Bundesliga in the heart of Premier League territory.
Manchester United won the Premier League at a canter, 11 points ahead of nearest rivals Manchester City. The margin was a convincing and realistic reflection of United's supremacy - but a wise man would not risk too much on them overcoming either of these two sides.
There may be wider competition in the Premier League but Bayern and Dortmund look much better than the best the Premier League can offer.
This is food for thought for new Manchester United manager David Moyes, inexperienced in Europe, and those managers-in-waiting at Manchester City and Chelsea, Manuel Pellegrini and Jose Mourinho.
These two sides, backed by German fans who made Wembley a splash of bright yellow and red, produced a game to savour. Robben was at its centre, making Mario Mandzukic's opener and scoring the 89th-minute winner after Ilkay Gundogan equalised with a penalty.
For match-winner Robben, 29, whose relationship with the Champions League had seen his physical and mental courage questioned, it was the sweetest redemption.
Twice a semi-final loser with Chelsea to Liverpool in 2005 and 2007, he played in both Bayern final defeats, and was heavily criticised after missing a penalty in last season's final defeat to his former club.
He could have been forgiven for having that familiar sinking feeling at Wembley as he missed two first-half chances, one only stopped by the face of the outstanding Dortmund keeper Roman Weidenfeller.
Robben, however, had the courage of his convictions to go back again and show composure under pressure to score the winner. It answered his doubters, won Bayern the Champions League and lifted the weight that has often seemed to bear down on him on the big occasion.
The tears that flowed from Dutchman Robben at the final whistle gave the moment its true context. The nightmare was over.
Next on the cast list was Bayern's 68-year-old coach Heynckes. There is no better parting gift for any European coach to leave his club than the Champions League, especially when you are moving aside to make room for the feted figure of Pep Guardiola as he returns from his sabbatical after leaving Barcelona.
This dignified man of German football must have feared the concluding years of an outstanding career would be framed by events in the Allianz last May when Bayern squandered the opportunity to win the great prize in front of their own fans.
Instead, he returned with a fitter and improved Bayern that fully deserved this victory. And what a little leaving present for Guardiola, especially if he completes a treble with the German Cup in the coming days.
He has done this before, having seen his time at Real Madrid ended despite winning the Champions League in 1998, but there is no doubt this would have been his target once Guardiola's appointment was announced.
No-one can question Guardiola's pedigree but even he will have his work compared to that of Heynckes - perhaps even unfavourably - if Bayern's outgoing coach can complete the clean sweep.
In among it all we had Bayern-bound Mario Gotze, still a star of Dortmund but missing this final through injury, smiling in elation as his current employers equalised against future employers.
There was great honour and pride in defeat for Borussia Dortmund, their colourful supporters and players placed so skilfully as the underdogs and common people's favourites by their charismatic coach Jurgen Klopp.
Klopp may not have been able to slay the giant but we have witnessed, through a body of work assembled at Dortmund, confirmation that he is one of the game's largest coaching personalities to emerge since Jose Mourinho, and with ability to go with the image.
He has been captivating throughout this Champions League run. Bespectacled, animated and with that ready smile, Klopp will be linked with any major vacancy from now on - and plenty inside Wembley were talking about what he might eventually bring to the Premier League.
Whether he would want that remains to be seen, given what he has created, and clearly enjoys, in Dortmund. Watching Klopp was an event within an event at Wembley.
Constantly applauding his players, clenching his fist as he waved them forward in attacks, he provided one of the night's most memorable images when Neven Subotic cleared Thomas Mueller's shot off the line with the score at 1-1.
Klopp threw his arms in the air and spun around with a passionate fist-pumping reaction worthy of a goal celebration. It is this heart-on-the-sleeve emotion that has endeared him to so many. He and his teams will bring much pleasure.
He may have been the loser on this night but his stock only rose further.
As for football, the German masses still milling around Wembley's concourses were taking it back home with them.