Borussia Dortmund coach Jurgen Klopp vows to rebuild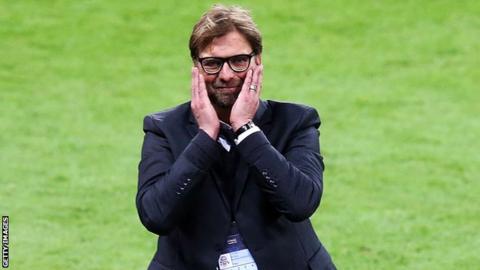 Jurgen Klopp has vowed to strengthen his Borussia Dortmund team and reach another final after their Champions League defeat by Bayern Munich.
Dortmund lost the all-German contest 2-1 at Wembley on Saturday after a late strike from Arjen Robben.
"We will come back, maybe not to Wembley but we will try to come back to another final," the head coach said.
"I have much work to build a new team. I think we'll get a pretty decent team together, I wouldn't worry about that."
Dortmund have already lost playmaker Mario Gotze - who sat out the final with a hamstring injury - to Bayern for a £31.5m fee, while striker Robert Lewandowski continues to be linked with a move to the Bavarians.
Responding to the transfer speculation, Klopp joked he was set for a busy summer as he looks to replenish his squad.
"Now we have to go on holiday, and buy some players because others clubs want our players," the former Mainz boss said.
After edging an absorbing first half, Dortmund fell behind after Mario Mandzukic tapped in a Robben cross on the hour mark.
Klopp's side refused to be down heartened, and they drew level when Ilkay Gundogan scored from the penalty spot following a clumsy challenge from Bayern defender Dante.
The match seemed to be headed for extra-time, before Robben raced through to seal the victory.
"The team played a great game, they gave everything they had," Klopp said. "They really deserved to equalise.
"I feel pride comes up in me and sadness goes away. It was a great season from my team and a really great match, perhaps the best match against Bayern in the Champions League this season."
Brazilian defender Dante was on a booking when he fouled Marco Reus in the area. But in a decision that perplexed Klopp, Italian referee Nicola Rizzoli declined to show a second yellow card to the centre-back.
Klopp said: "I saw it in the game and I was sure you can give a second yellow card and when I saw it on television I thought you had to give it.
"But in the history of football there were refereeing decisions worse than this. 11 against 10 after that we are the winner? I don't know."
Dortmund struggled in the final stages of the match, gifting a number of chances to Bayern before Robben struck the winner.
Defender Mats Hummels conceded that his side had struggled to keep pace with their opponents at the death.
"It's hard to deal with the disappointment right now, especially if you concede the goal in the 89th minute,'' the 24-year-old said.
"In the end we had become a little tired and Bayern took advantage.''