Champions League final: Where the match was won and lost

By Steve McClaren
Former England manager and BBC Radio 5 live analyst
Last updated on .From the section Football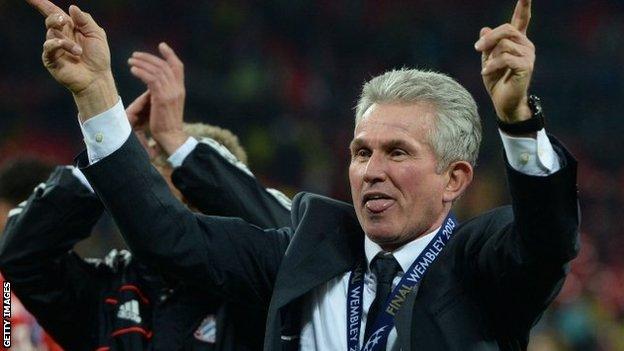 Bayern Munich's win over Borussia Dortmund in the Champions League final at Wembley was a demonstration of German football at its very best.
Neither Bayern Munich or Borussia Dortmund base their game on slow, patient passing or possession - they both play a high-tempo game, full of intensity and are always looking to create chances. The final was not about two teams who play in Barcelona's style,
Before the game, I was talking about how quickly both teams would get forward, but the other feature of their play we saw on Saturday was how quickly they both got back.
Dortmund started so well and stopped Bayern from playing but, in the end, the best team won.
Bayern definitely deserved their victory and the man who has got to take plaudits is their manager Jupp Heynckes. He has changed this team around completely since taking charge in 2011.
He learned part of that from Dortmund, in that he has got his players fitter than theirs, something I didn't think was possible.
Dortmund dominate opening stages
Dortmund know how to beat Bayern - by being very organised, compact and composed without the ball, and then trying to get behind their defence very quickly when they win possession.
As expected, Dortmund started at a very high tempo, something they do in the first 20 minutes of every game.
They smothered Bayern in midfield and forced them to play long, which isn't their style.
At this stage, Ilkay Gundogan and Sven Bender were easily winning the battle in central midfield when Bayern tried to play through them, then Dortmund were springing forward very quickly.
They played the ball forward to Marco Reus and their main striker Robert Lewandowski, who were both causing the Bayern defence massive problems, and created lots of chances.
Dortmund badly needed to score while they were on top because they knew that Bayern would come back at them.
The danger for Dortmund was that, by pressing so much in the centre of the pitch, they left a lot of space behind their back four. Bayern began to take advantage of this before half-time.
Bayern have the best individual players and they were always going to create openings. When the game opened up, they became massive favourites to win it.
Bayern take control and deserve their win
Bayern grew into the game in the second half and they seemed to get stronger and stronger, Franck Ribery and Arjen Robben in particular.
What helped Ribery and Robben become so influential was striker Mario Mandzukic's running up front. He played for me at Wolfsburg and and that boy can run - I have never seen a player who can run so quick and so far.
Mandzukic led the Bayern line so well, and gave Bayern's wide-men the room to manoeuvre, inside and outside, forcing the Dortmund players back. For both Bayern's goals, both Ribery and Robben took full advantage of that space.
Bayern battered them for the final 20 minutes but I don't think Dortmund could have given any more.
The only thing they could have done differently was make a change to put more energy on, maybe by putting another attacker, Julian Schieber, on a little bit earlier, after their 67th-minute equaliser when they had the momentum and Bayern might have been down.
They didn't and, by the time Bayern scored their 89th-minute winner they were rampant. They kept going forward, and got their reward.
This Bayern team is a machine, and in the end they ground Dortmund down, not by out-passing them but through sheer industry and organisation, and will to win.
They were not at their best but they know how to win when it matters.
What next for Germany's top two?
Bayern have adapted and overtaken Dortmund in the Bundesliga, and now they have overtaken everyone in Europe to win the Champions League.
You could look at them and think, with Heynckes leaving, what does former Barca boss Pep Guardiola do now to improve them when he takes charge? - but it is their players that are the main thing.
If Lewandowski does end up at Bayern as well as Mario Gotze then that makes them almost unstoppable.
But Dortmund have lost players before. They lost Shinji Kagawa last summer, and they are definitely going to lose Gotze this time.
The good news for them is that they have got Marco Reus, who is going to be stronger and better next year, and they also have money in the bank.
What they are good at is recruiting and producing players, and they will keep the conveyor belt going.