John Mikel Obi available for Nigeria qualifiers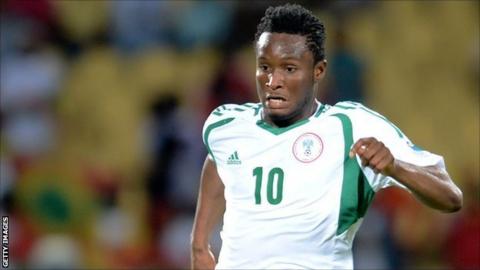 Chelsea's John Mikel Obi has confirmed that he will join up with the Nigeria squad for June's World Cup qualifiers and the Confederations Cup in Brazil.
Mikel had been a major doubt due to club commitments and visa problems.
The Nigeria Football Federation (NFF) revealed that the 26-year-old asked to be rested for a friendly against Mexico on 31 May.
But he will be available for qualifiers in Kenya and Namibia, as well as the Confederations Cup.
"I've sorted a visa appointment date with the Brazil embassy in London, which really means a lot to me," Mikel said.
"I would have loved to play the friendly against Mexico but that will be impossible, considering the timeframe.
"I will be available to play against Kenya and Namibia. And the Confederations Cup is the sole reason I'm applying for my Brazil visa now to enable me make the trip.
"I look forward to playing my part for my country."
The African champions' busy June schedule has been blighted with injuries to Victor Moses, Kalu Uche and Gabriel Rueben.
They will also be without the Nations Cup joint-top scorer Emmanuel Emenike, who is out with a knee injury.
The Super Eagles are level on points with Malawi at the top of World Cup qualifying Group F.
After three matches, both the Nigerians and the Flames have five points, with only the top team in each group going through to the next round to challenge for a place at the World Cup finals in Brazil next year.