Raheem Sterling: A whirlwind 12 months will make me stronger

Last updated on .From the section Football363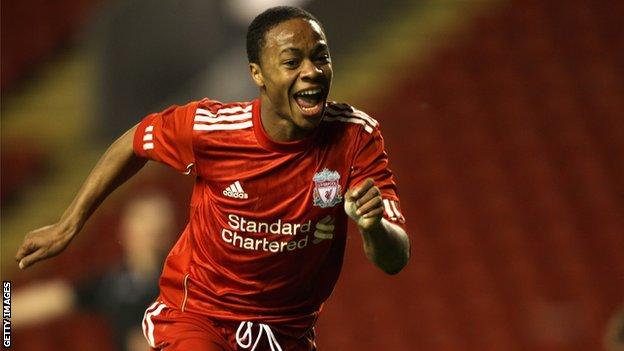 Raheem Sterling is back where it all began.
We are sitting in the shadow of Wembley Stadium, a mile from where he grew up as a child and yards from where he would ride his bike as a young boy watching this iconic ground rise from the rubble.
"It is weird to come back and see the stadium fully built," he says.
"As a kid I just used to ride round here when there wasn't much to see - just a building site."
That he has no memory of the old Wembley - the iconic towers were torn down before the Liverpool winger even began junior school - is a reminder that Sterling is still finding his way as a man.
It has been a whirlwind 12 months for the 18-year-old. A year ago he was nothing more than an exciting talent, one for the future. But a breakthrough season at Anfield has changed all that.
It has been a year in which Sterling has been forced to grow up quickly, with a steep learning curve both on and off the field. His god-given talent catapulted him into the footballing stratosphere after a series of eye-catching performances for his club.
Before long, England boss Roy Hodgson came calling.
The fame, the wealth and all the trappings that come with being a top footballer in the 21st century soon followed - for good and for bad. He has been feted, injured and even falsely accused of assault after going to a party with friends.
How is he coping with the fame?
"I'm still getting to grips with it," he tells me. "I have to realise the position I'm in now. I am vulnerable to a lot of stuff. I have just got to watch what I am doing and who I hang out with."
When I ask him how much of a relief it was to see the assault charge against him dropped, he says: "It's a difficult one. People try to be your friend because you're a footballer - it's not right, really.
"I try to spend as much time as I can with my family, keep my head down and concentrate on football as much as I can."
We are sitting in the plush surroundings of a five-star hotel overlooking Wembley Stadium. Sterling, dressed in a pair of skinny black jeans, pumps and a black top, comes across as an honest, mature and grounded young footballer, desperate to make his way in the game and confused by the fuss that surrounds him.
The interview is interrupted on a number of occasions. The first time by loud music played over the public address system in the hotel, the second by cleaners in the background. Sterling laughs.
"Football is something I love, something I have been doing since I was a little boy, even though I am still a little boy now. It is something that I just love doing," he says.
I take him back 11 months to that very public dressing down from his new manager Brendan Rodgers during Liverpool's pre-season camp in the US. It became a YouTube sensation.
He laughs as I remind him. "I remember getting absolutely slaughtered in the training session in front of all the boys. Me and the manager spoke about it and we laugh about to it this day."
It was to be the making of Sterling, who made his full debut for the club just weeks later, starring as Liverpool came within a mistake or two of beating then champions Manchester City at Anfield.
"The manager said to me he liked my attitude after that [incident in the US]. He said most boys my age would have started sulking, but I got my head down and worked hard. From day one he said, 'If you're good enough, you're old enough'. He gave me a chance."
Rodgers is a mentor for Sterling. During the negotiations that culminated in the youngster signing a new five-year deal at Anfield, Rodgers was at pains to ensure the teenager was protected from the danger of "too much, too soon".
How does he view his relationship with Rodgers? "I can't talk highly enough about him. Not just as a manager but as a man," he says.
"Anything you need to talk about with him, he is always there. He always gives support not just to the players who are doing well but to the players who aren't."
The Liverpool winger also looks up to Steven Gerrard. When a 15-year-old Sterling was invited, along with his mother, by then manager Rafael Benitez to tour the club's training ground in 2010, it was Gerrard that joined them to provide a dash of stardust and the hard sell while Manchester United, Man City and Arsenal all circled.
"He is captain of the football club for a reason - he's someone that everyone, not just me or the rest of the boys at the club, look up to. He gives advice to the young lads and doesn't mind giving a young player a kick up the backside when it's needed. He's a great influence."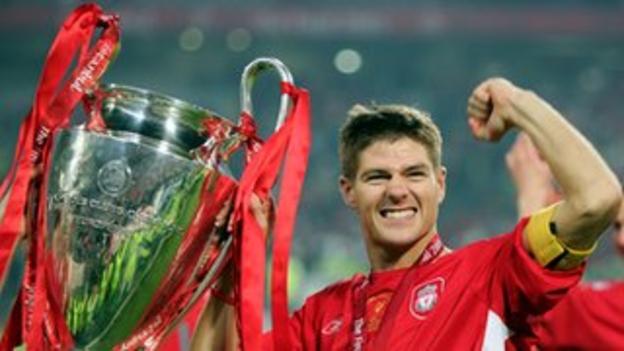 Sterling's meteoric rise to prominence in the first half of the season was tempered by the frustration of an injury-hit second half.
Now he's gradually overcoming the long-standing thigh problem that forced him to withdraw from the England Under-21 squad and hampered his form for several months.
"The injury is getting better and I should be back for pre-season," he says.
"My injury kicked in from about November. Every game from then on was 50/50 for me.
"I tried to push myself but the further on the season went on, the worse the injury got. I tried to keep going, stay fit. But towards the end of the season I was tiring.
"It was a weird one. It wasn't such a serious injury at first but it got worse. The manager had to manage my conditioning and he wanted to give me more of a breather. But hopefully next season the rest will be worth it."
Sterling is utterly committed to the new season. While his team-mates fly off to all corners of the world on holiday, the 18-year-old is working on his rehab, thinking about football and dreaming the big dreams.
"It is anyone's dream to go to a World Cup," he says. "But I have to be realistic and take it step by step, game by game next season. I have to try to be a regular for Liverpool first and then hopefully get a chance to play for a place in the squad for the World Cup."
There is no danger of Sterling getting carried away. He is learning all the time, well advised by his team and closely watched by his loving family. The youngster is back where it all began. Football waits to see if Sterling the man can deliver on the promise we saw last season.
Don't bet against him.