Swansea boss Michael Laudrup will stay despite other offers - agent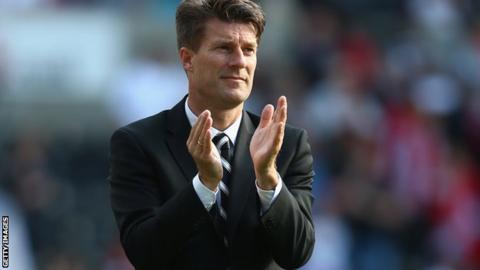 Michael Laudrup has received offers to join other clubs but will stay loyal to Swansea, according to the Dane's agent.
The Swansea manager has been linked with Everton to succeed Manchester United-bound David Moyes.
But his agent Bayram Tutumulu said: "Michael Laudrup, just now, is very happy at Swansea City. Of course Michael has had offers from elsewhere.
"Other teams can wait one or two years. We know Michael is going to train the big teams but this is not the moment."
He added: "Michael doesn't think about other teams because he promised to the players and the fans he wants to stay in Swansea."
Laudrup himself has also insisted he would stay at Swansea for a second season, having enjoyed such success in his first term at the south Wales club by finishing ninth in the Premier League and securing a place in the Europa League by winning the Capital One Cup.
The 48-year-old signed a one-year contract extension in March that ties him to the club until June 2015, but only after seeking assurances from chairman Huw Jenkins that funds would be available to strengthen the squad during the summer.
"When we expanded the contract of Michael Laudrup, we spoke with the board and the chairman that they're going to make a really good team for Michael," Tutumlu added.
"A good team is no problem. If they don't have the possibility of making a good team, I don't know what can happen. Michael needs good players.
"We don't want to have the same experience as Newcastle for example. He told the board and the chairman that [Swansea] need a very good squad this year."
Tutumlu also claimed players are prepared to turn down higher wages from other clubs to come to Swansea because of Laudrup.
One of the players Swansea have been heavily linked with is midfielder Jose Canas, whose contract at Real Betis expires in the summer.
"Canas from Real Betis - one Premier League team have offered him double his salary," Tutumulu added.
"And you know what the boy tells [them]? He tells [them]: 'No, I want to go to Swansea City.'
"Players have other teams offering them more money but they prefer to come to the team of Michael Laudrup."