Celtic: Pat Nevin tips manager Neil Lennon to stay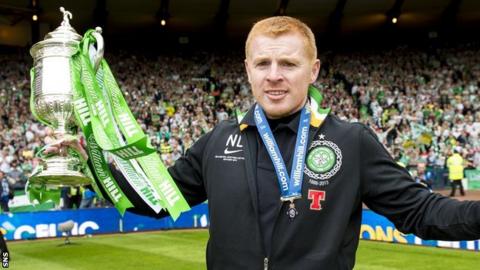 Former Scotland international Pat Nevin is sure that Celtic manager Neil Lennon will be with the Scottish champions next season.
The Celtic boss, whose side won the Scottish Cup on Sunday, has been linked with a move to England.
"I would be surprised if he goes just now," said Nevin.
"It must be tempting to go down south, because that's where all the money is. However, and it's a big however, he's in the Champions League each season."
Nevin, who spent the bulk of his playing career in England with Everton - one of the clubs linked with Lennon - and Chelsea, insisted Lennon would only move to a club in the top seven of the English Premier League.
"There's also that thing of where you go; people were suggesting Leicester - surely Neil Lennon wouldn't leave Celtic for Leicester - it just wouldn't make any sense.
"It would have to be a team from the top league, obviously, but a team from the top league that's not losing or struggling against relegation.
"There are only a very, very few jobs available. If one of the absolute top five, six, seven comes, then it must be a temptation.
"Other than that I would be surprised, because as Neil Lennon walked down with the cup yesterday, did you see that look he had, the affection he has for the fans?
"It's very difficult to find that in football, and certainly very difficult to find that in England - outwith the clubs that have lots of money."
Nevin's views were echoed by former Celtic midfielder Murdo MacLeod, who thought the lure of Europe would keep Lennon at Parkhead.
"I think Neil's always been talking about the European campaign and how much he enjoyed it and I think he wants to be part of that again," he said.
"I don't think there's many clubs down south that would be in Europe that are looking for a new manager just now, so I think Neil will stay at Celtic."
MacLeod argued that the Scottish Cup victory over Hibernian added gloss to Celtic's season.
"That's the icing on the cake," he said.
"They were always going to win the league, with no Rangers in the league, but now, with the cup in the bag and the European campaign, it's been a really good season for Celtic."
However, MacLeod also indicated that Lennon would be looking for extra funding for the upcoming season, with the possibility of key players leaving the club.
"I think he was going to have a chat with the board after the final to see if they were going to invest some money in the team," he said.
"Because obviously there's two or three of the players could leave.
"Gary Hooper could leave, Victor Wanyama could leave - so all of a sudden that's a big gap in the Celtic squad."