Wilfried Zaha: Crystal Palace not expecting loan move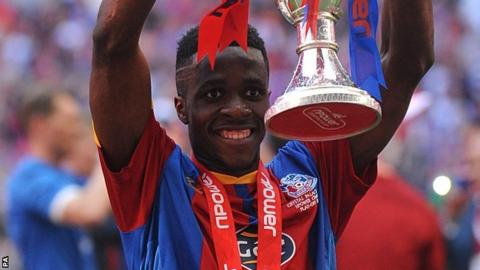 Crystal Palace chairman Steve Parish says there are no plans to try to get winger Wilfried Zaha back on loan from Manchester United.
Zaha, 20, signed for United in January but stayed on at Palace to help them win promotion to the Premier League via the Championship play-off final.
"Wilfried deserves his chance to go to Manchester United with a view to making it there," Parish told BBC Radio 4.
"I think he is good enough and will figure in their first team."
Parish added: "We are certainly not thinking about loaning him back.
"We will be planning for life without him. If he does get loaned out to another Premier League club then obviously we would want to be in the mix."
England international Zaha scored twice in the Championship play-off semi-final against Brighton and won the penalty in the final against Watford, which Kevin Phillips scored to secure the Eagles their lucrative ticket back into the top flight.
Promotion could be worth £120m to Palace as they ended an eight-year absence from the Premier League.
The club's revival comes after they entered administration in January 2010 before being bailed out by a consortium, led by Parish, which also included Stephen Browett, Martin Long and Jeremy Hosking, in the summer of that year.
Palace have been relegated in each of their four Premier League seasons and Parish is concentrating on getting the measures in place with manager Ian Holloway to make sure it does not happen again.
"The hard work starts now," said Parish. "It's a lot of money but there's a lot of things to try to do with it, not least to try to stay in the division. I'm already speaking to Ian and trying to plot a route to do that.
"We have to improve the infrastructure of our club. When you're not in the Premier League and don't have access to those funds for so many years you fall behind terribly.
"Selhurst Park is not the best now and we really need to work on that but by the same token we desperately want to try to give a good account of ourselves and stay up.
"I will be sitting down with the manager, who understands what we are trying to achieve as a club in the long term, and we will be making some sensible decisions about how much we can apportion to each."
He added: "We know it will be tough but I think the bottom of the Premier League isn't radically different from the top of the Championship. If we keep the nucleus and spine of the squad we have got and add to it carefully then I think we will give ourselves a good chance.
"We have got a manager who nearly did it [achieved top-flight survival] with Blackpool and he is our wild card. He has just got something which pulls out the best from people."