Crystal Palace: Kevin Phillips hopes to remain at Selhurst Park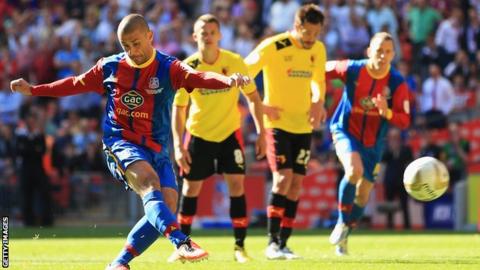 Crystal Palace striker Kevin Phillips says he hopes to remain at Selhurst Park next season.
The 39-year-old scored the winner as the Eagles beat Watford 1-0 to secure promotion to the Premier League.
He told BBC London 94.9: "I am pretty certain that I will carry on next year. Where that will be, I don't know.
"I have already had a couple of offers which I will consider but if there was something offered to me at Palace it would be hard to turn down."
Phillips, who turns 40 in July, is currently on loan at Palace from Blackpool but his contract expires this summer.
Asked whether he felt his body could withstand top-flight football, Phillips responded: "Without a shadow of a doubt.
"I will go away and enjoy my time off but I will keep myself right, as I have done every year. I wouldn't still be playing now if I didn't.
"I think I have still got something to give in the Premier League."
Shortly after joining on loan, Phillips said he wanted to repay Palace manager Ian Holloway for bringing him to the club.
The former Sunderland and West Brom striker previously played under Holloway at Blackpool.
"I have the utmost respect for the manager," Phillips said. "Love is a strong word but I have admiration for him.
"What other manager would put a 39-year-old, touching 40, on for the last half hour of a game which is worth £120m?"
Phillips has scored 248 league goals since he signed for Watford in December 1994 after impressing at non-league Baldock Town.
He has previously suffered defeat in three play-off finals but helped Palace into the top flight after converting a penalty in extra-time.
"It is quite ironic that, 20 years after it all began at Watford, if this was to be my last game then it was against Watford," the veteran said.
"Having scored the winning goal it's quite emotional and there were a few tears at the end.
"I'm delighted to still be playing, and to have played a major part in a huge game, at my age, is quite humbling."