Mark Hughes expected to replace Tony Pulis as Stoke boss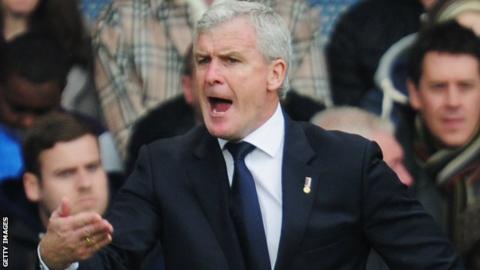 Former Queens Park Rangers boss Mark Hughes is expected to be appointed as the new manager of Stoke City by the end of the week.
Talks between Hughes and the Potters have gone well, and the 49-year-old is believed to be the Premier League club's first choice.
Leading figures at the club are of the view that Hughes would be a "good fit".
Tony Pulis left Stoke last week and suggested the board wanted "to take the club in a different direction".
Wigan manager Roberto Martinez and former Sunderland boss Martin O'Neill have also been linked to the post but Hughes, who has been out of management since being sacked by QPR in November, has emerged as the choice of key decision-makers.
The former Manchester United, Barcelona and Chelsea striker started his managerial career with Wales in 1999 before leaving to take charge at Blackburn in 2004.
He left Ewood Park four years later for Manchester City, where he spent 18 months before being replaced by Roberto Mancini.
A one-season spell at Fulham followed before he was named QPR manager in January 2012.
He saved the Loftus Road club from relegation that season, but was sacked just three months into the following campaign.
The chairman of Stoke City's Supporters Club, Bryan Shaw, said the expected appointment of Hughes will not prove universally popular among supporters.
"From all the people available, he would not have been my first choice, although he has a reasonable record apart from at QPR," he said.
"Not a lot of supporters wanted Tony Pulis back when he was brought back for a second spell in charge.
"That wasn't a popular decision because of his style of football. Probably half of the fan base was against him at first but he won the majority over. There is a feeling Hughes is similar.
"If you ask the majority of Stoke supporters, Mark Hughes would not be their first choice. That said, whoever the chairman appoints we have to get behind. We just have to hope he proves us wrong."