Ron Vlaar: Aston Villa must learn from mistakes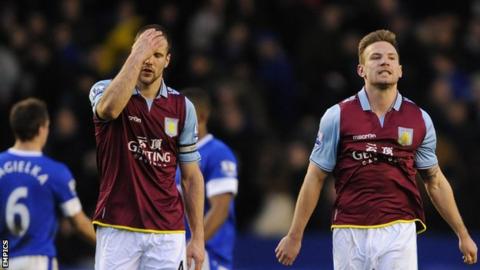 Captain Ron Vlaar says Aston Villa's young side must look to learn from their mistakes after securing their Premier League status for next term.
Villa finished 15th, six points above the drop zone, after battling to avoid relegation for most of the season.
And Dutchman Vlaar, in his first year at Villa Park, believes his side have a strong foundation to grow from.
"We have to learn from the mistakes we made. The basics are good, and we have to build on that," he told BBC WM
"If you look at the first XI, Gabby [Agbonlahor] is the only player who has played in the Premier League much before, for most it was our first season."
Villa were still in the bottom three in April, but a superb 3-1 victory over Stoke at the Britannia Stadium moved them out of the relegation zone, which they remained out of for the rest of the season.
Vlaar believes that his side's form towards the end of the season - picking up 17 points from a possible 30 - demonstrated what they are capable of.
"In the end, we all played better and scored a lot more goals," the 28-year-old said. "There's still a lot to work on, but we can be very satisfied by the way we played the last three months.
"We got good results against teams around us, which gave us a lot of confidence.
"I always believed in survival. In the first half of the season we were unlucky with decisions or deflected shots, but second half we earned the right for some luck because we played better."