Bristol Academy: Boss Mark Sampson defiant after Cup loss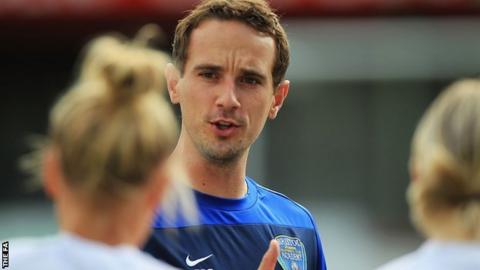 Boss Mark Sampson has vowed Bristol Academy will come back stronger from their FA Women's Cup final defeat by Arsenal on Sunday.
The reigning Super League champions won 3-0 at the Keepmoat Stadium, Doncaster, to clinch their 12th Cup triumph.
But with his side currently top of the Super League, Sampson insists his players will learn from the loss.
"We've got a young team and they're going to be much stronger from this experience," he told BBC Radio Bristol.
"People need to stick with us as we're still sitting top of the league and you don't become a bad team on one sunny afternoon in Doncaster.
"We're on a journey and we're not there yet. There's loads to be done and we're really ambitious - we want to get to cup finals and win."
It was the second time the Vixens had lost out to Arsenal in the final of the competition, with the Gunners winning 2-0 in 2011.
The two teams will meet in the league on Thursday and Sampson is confident his side can continue their successful run of form, which has seen them win all three games so far.
"If we could have chosen a team to play next then it would be Arsenal, and luckily we've got them on Thursday," continued the Welshman.
"This is going to be a kick in the teeth but we've got to use it as a motivation. We know exactly what our opponents are about and we know what we need to be better at."
Bristol Academy are set to be without midfielder Lucy Staniforth, after the 20-year-old left the pitch on a stretcher after suffering a knee injury.
She will undergo scans on Tuesday to determine the severity of the problem.
"It wasn't nice. Lucy's really tough so you know that when she's screaming like that she's in a lot of pain," said Sampson.
"That was a tough moment for the team but credit to Lucy, she got on some crutches and got herself on the pitch after the game.
"It doesn't look good but we're crossing our fingers that it will be good news."