Scottish league restructuring: SFL to vote on 12 June
By Jim Spence and Chris McLaughlin
BBC Scotland
Last updated on .From the section Football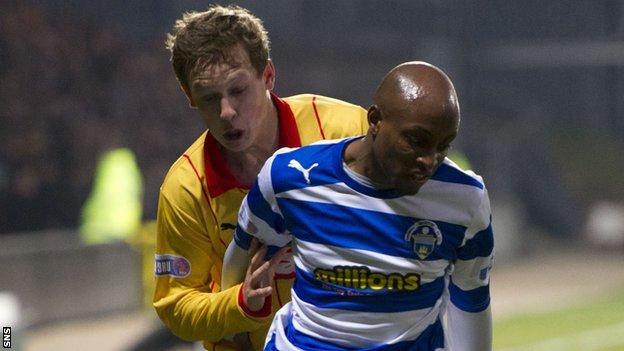 Scottish Football League clubs will formally vote on the issue of league restructuring on 12 June.
Second and Third Division clubs met on Tuesday to discuss a threatened breakaway by Division One.
The 10 Division One sides could move to create a second tier under the auspices of the Scottish Premier League if proposals they favour are blocked.
They want the SFL to accept the SPL's plan for implementing change in all of the nation's leagues.
A show of hands at the recent rejected the proposal.
Now the 12 June gathering is being billed as the last chance for a solution involving all 42 senior clubs.
It had been suggested that if enough of the Division Two and Three clubs indicated a change of heart at their talks on Tuesday in Stirling then a special meeting could have been convened in five days but this now appears unlikely.
If the plan is not approved, it is understood that the 10 Division One clubs will attempt to break away, joining the SPL in a newly created Scottish Professional Football League.
They plan to create a new "SPL2" within 48 hours if the vote fails to endorse the SPL's vision.
The SPL has proposed a merger with the SFL that would also introduce promotion and relegation play-offs between the top flight and Division One and a greater distribution of wealth to the second tier.
SPL clubs then rejected amendments suggested by the SFL, including the filtering of some of the money aimed at Division One clubs to the two leagues below.
The SFL had also wanted a change in the proposed voting structure, taking a vote away from Division One and giving it to Division Two and Three.
In addition, the SFL had wanted a financial due diligence report conducted into the proposed merged league body.