NFF vice-president Umeh faces money laundering charges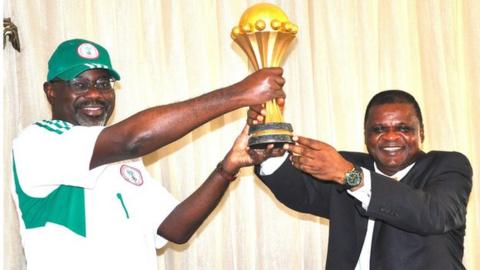 Nigeria's anti-corruption agency has arrested Nigeria Football Federation (NFF) vice-president Mike Umeh on money laundering charges.
The Economic and Financial Crimes Commission (EFCC) said Umeh is an alleged accomplice in a multi-million-dollar operation involving a former governor of one of Nigeria's states.
"Mike Umeh is an accomplice in the case of money laundering and misappropriation of public funds to the tune of 15 billion Naira ($94.8m)," EFCC spokesman Wilson Uwujaren told BBC Sport.
"It's a case for which former Governor Attahiru Bafarawa of Sokoto State is standing trial."
Umeh, seen as one of the country's most influential football figures, was arrested in Lagos on Monday and then transferred to Sokoto, in North West Nigeria.
The top football official will appear before Justice Bello Abass of the Sokoto high court on Tuesday.
But the country's football authority say it will not comment on the arrest of one of its board members, insisting the case has nothing to do with the NFF.
"The issue mentioned has nothing to do with the Nigeria Football Federation (NFF)," NFF spokesman Ademola Olajire told BBC Sport.
"It's a very sensitive matter and the NFF cannot make a categorical statement at the moment.
"The NFF is aware of the position and is continuing to monitor its progress."