Hinckley United: Stuart Storer named club's new manager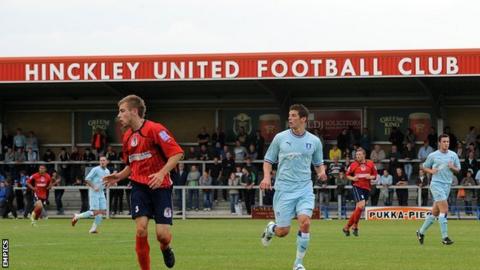 Hinckley United have appointed Stuart Storer as manager following the departure of Carl Heggs.
The former Bolton Wanderers and Brighton defender, 46, made 310 appearances for the Knitters before joining the coaching team in 2010.
Hinckley chairman Mike Sutton said Storer deserved the job, having worked under Dean Thomas and Heggs.
"It is time that he is given a chance rather than being second to everybody," Sutton told BBC Radio Leicester.
Storer's first move as boss was to appoint former Knitters team-mate Andy Penny as his assistant.
Sutton added that Storer's familiarity with the club will be key to winning promotion back to the the Conference North.
Financially-troubled Hinckley finished bottom of the table, with Heggs leading the side to two wins and four draws from 28 league games in permanent charge.
"We have the right man for the job - players have an affinity with Stuart," said Sutton.
"There will be a few additions as Stuart has a few friends he can call in. Andy was around for a long time and it will be nice to see him back again."