Dundee fans' group wants more time to consider takeover bid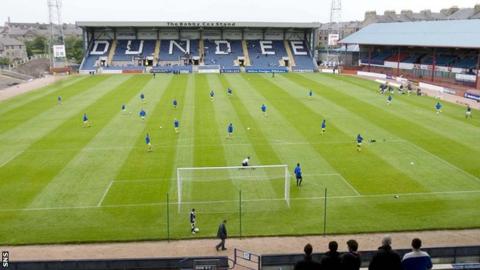 Dundee FC Supporters' Society has urged the club's board to take more time and conduct a full financial analysis of a proposed Texan takeover.
Keyes Capital and Dundee financial director Ian Crichton have both warned that £1.5m investment could be lost if there is delay.
But the fans' group, which has half of the six seats on the board, wants more details on the plans.
And it will meet again to discuss the matter on Saturday, 1 June.
That is the day after the deadline set by Keyes Capital, which is working with current Dundee directors Bill Colvin and Steve Martin.
A statement from the society asks for "a revision of the time limits", claiming the deadline is "insufficient either to conduct due diligence or to consult with our members on the proposed deal".
The society wants more information on the proposed use of capital injected, a three-year business plan and cash-flow projections, which it says it has yet to see.
As a result of the ongoing talks and the request for details, the fans' group agreed it is "not in a position to provide members with a formal proposal or sufficient information to vote on" and has postponed a special general meeting, which was planned for 15 June.
John Nelms of Keyes Capital explained the need for haste to BBC Scotland at the weekend, saying it was vital that the relegated club start planning for next season immediately.
If the Dundee board approves the sale, the supporters society would have its influence diluted.
However, it would still retain a shareholding of around 30% and have representation on the board.