Richie Barker: Crawley Town manager signs new deal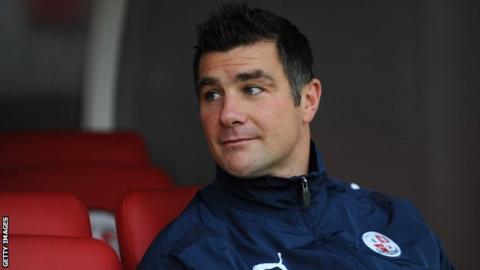 Crawley Town manager Richie Barker and his assistant Taff Williams have signed new two-year contracts with the club.
Barker moved to the Broadfield Stadium last August and guided the Reds to a 10th-placed finish in League One.
"This is a club moving in the right direction," said Barker.
"There is still a lot of work to do but I have a very committed backroom staff and playing squad. We are already preparing for the challenge of League One next season."
Last season's was Crawley's highest ever league finish and Barker hopes the club can continue improving.
"Off the field, a lot is going on to make this football club one that can sustain itself at this level and hopefully push on to the Championship," he told the club website.
"We have seen with Yeovil's promotion that smaller clubs can be successful and everyone at Crawley is looking forward to embracing the exciting challenges which lie ahead.
"We did well last season but League One will be extremely competitive next season when you consider the size of the clubs coming down and those who are coming up.
"But we already have a good squad that is capable of further improvement and we will be looking to strengthen it before the season starts.
"There are lots of exciting challenges awaiting us but I can't wait to get stuck in and to help the club build on the solid foundations we have already put in place."
Crawley chief executive Richard Low said he was delighted that Barker and Williams had extended their deals at the West Sussex club.
"It is important for the football club's development that key staff are with us for the long-term," said Low.
"He is a very highly-regarded young manager and coach and he and Taff have a very strong relationship with the rest of their staff and the players.
"As a club we have made tremendous strides in the last two years and it's great that Richie will be part of what we are trying to achieve going forward."