Crusaders to continue their legal action over Windsor upgrade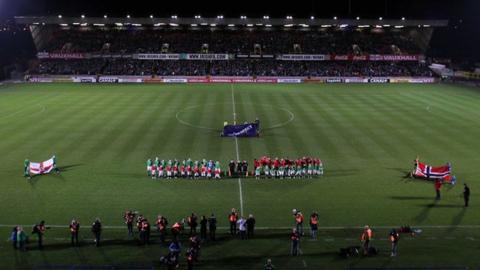 Crusaders are to continue their legal action against the Department of Culture Arts and Leisure over the £25m redevelopment of Windsor Park.
Earlier this month the Irish League club won the right to legally challenge government funding of the project.
The North Belfast club claim that the money could unfairly extend Linfield's dominance in local football
Crusaders want full discovery of information associated with funding which has been denied to date.
A statement from Crusaders following the club's annual general meeting on Tuesday night said that members made clear that there is no appetite to hold up the redevelopment of the international stadium.
The Irish FA are hoping that building work on the Windsor Park redevelopment will start later this year and be completed in 2015.
On Wednesday, it was announced that the high court challenge will be held over three days from 16-18 December.
Tuesday's Crusaders AGM also heard that the North Belfast club state that they haven't given up on a north Foreshore site for their own new stadium plan and consider it the "best option going forward".
This is despite the recent setback of the failure of a developer-led tender to Belfast City Council for land at the North Foreshore site.
"This has been a disappointing outcome for Crusaders and our partner club Newington but represents a setback rather than the end," added the Crusaders statement.
"Crusaders are clear that our future development requires a stadium capable of more balanced income streams and a wider catchment and appeal.
"The club will now draw up alternative options for stadium development but have not given up on the Foreshore site."