Work begins on new pitch at Guernsey's Footes Lane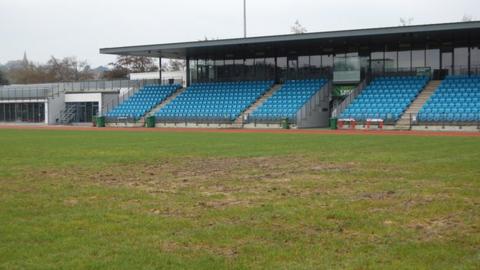 Work has started on £10,000 worth of improvements to the pitch at Guernsey's Footes Lane stadium.
The ground, which is home to both Guernsey FC and Guernsey Rugby Club, had drainage problems throughout last season after wet weather.
Guernsey FC had to call off seven games because of the state of their pitch.
"We're delighted they're carrying out the necessary work and it could be in better condition for next season," said Guernsey FC secretary Mark Le Tissier.
The stadium is owned and run by Guernsey's Culture and Leisure department and a
Guernsey FC were because of a combination of postponements and their run to the semi-finals of the FA Vase.
"Although it looked bad at times, when they did do the work to the drainage it made a remarkable difference, Le Tissier told BBC South West Sport.
"People worked extremely hard on the pitch to make sure the games went ahead."
The work will involve cutting around 100 narrow one-foot-deep trenches in the pitch and filling them with sand and gravel to aid drainage and will take five days to complete.