Derek Shaw relationship with Venky's unharmed by court loss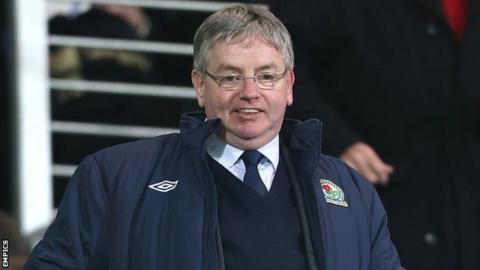 Derek Shaw has insisted that his relationship with Blackburn's owners has not been damaged by the club's recent loss at the High Court.
During the case, managing director Shaw was criticised by Blackburn's own lawyers, who claimed he acted without the authority of Indian owners Venky's.
"I speak to them nearly every day and everything's fine. We all have the same aim," Shaw told BBC Radio Lancashire.
"They have a big aim and that's to get the club back into the Premier League."
Before the court case began, BBC Sport learned the former Preston chairman had been while the club carried out an investigation into Berg's appointment and the Norwegian's subsequent pursuit of compensation.
When asked if he ever felt his future at the club was in doubt, Shaw said: "To my knowledge, there wasn't. There possibly was, but I'm still here and long may it continue."
Berg, who was in December 2012, won his compensation claim against the Championship club in April.
Blackburn had initially agreed to pay Berg in full, but later wanted to withdraw their admission that they were liable for the full amount for the remainder of his contract. Their claim was dismissed by a judge.
Much of the 2012-13 season was dominated by at boardroom level between Shaw, operations director Paul Agnew and global advisor Shebby Singh.
Shaw admitted he had "hardly seen Singh for months" but added that there has been "no big falling-out" between the two parties.