Braintree boss Alan Devonshire wary of agent power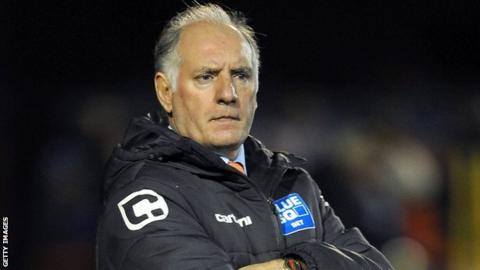 Braintree manager Alan Devonshire has warned his players not to be misled by agents and risk being without a club.
The Iron have offered deals to a number of last season's squad.
"Agents say 'we'll get you this club or that club' and a lot of them end up without a club," former West Ham midfielder Devonshire told BBC Essex.
"That's the sad part of it. If the deals are there, they have to seriously think about taking the deals rather than think they can play higher."
Devonshire, who signed a new contract himself at the end of the season, has already brought in former Watford midfielder Chez Isaac and handed fresh deals to Dean Wells, Kenny Davis and Jordan Cox.
Braintree tend to offer only one-year contracts and Devonshire is waiting on the bulk of his squad for next term.
"By the time they come back some of the deals won't be there," he said.
"I think they get carried away with agents - 'I can do this for you, I can do that for you'. If you're playing well you'll get a club, it's simple."