Dundee board split over proposed Texan takeover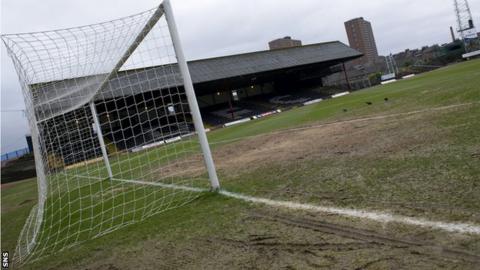 Three members of Dundee's six-man board have resigned amid disagreement over a proposed Texan takeover.
Steve Martin, Bill Colvin and finance director Ian Crichton left after the other members' refusal to accept the investment on offer.
Club director and Dundee Supporters Society chairman Dave Forbes said: "We are quite happy to accept investment, we are not frightened of it.
"But we need to be assured that it is legitimate and above board."
The board, which included three Dundee Supporters Society members, considered the initial investment offer of about £700,000 from Keyes Capital, who were working with Martin and Colvin.
The Texan-based group say they aim to put £1.5m into the Dens Park club, who have been relegated to the First Division.
But they were pressing for a deadline of 31 May and the fans' group had requested more time to consider the offer and further details of their plans.
Forbes added: "The fans have pulled this club out of the mire three times already. We don't want to have to do it again."
Forbes, Maurice Kidd and Fraser MacDonald remain on the board and, as DFSS representatives, own 51% of the club.
And Kidd stressed that they were still considering the investment offer and is asking the three directors to reconsider their decision to stand down.
"I still feel that the proposal on the table can be progressed," he explained.
"If there is a bit of understanding on both sides we can still get around the table and progress the deal, so I was extremely disappointed to find out they had resigned.
"The three supporters society directors want investment to come in. But to satisfy the requirements of our members, given what has happened through two previous administrations we do have safeguards in place.
"We would only be complying with SFA guidelines in that there has to be due diligence done, I think that is the least our fans deserve. Following two administrations we have got to know who is coming on board at this football club.
"We sat down at a board meeting last week and discussed how quickly this could be done going through the requirements for the society. I was disappointed that following these talks that they only gave us another week's extension."