Crystal Palace: Steve Parish faces 'luxury problems' after promotion
By Rob Stevens
BBC London & South East Sport
Last updated on .From the section Football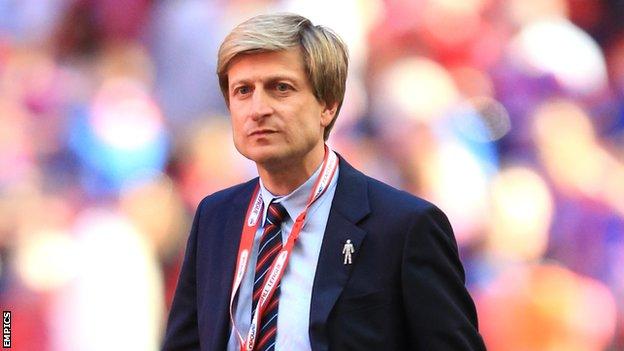 When Steve Parish became co-owner and co-chairman of Crystal Palace in 2010, the club was hours away from liquidation.
Now he is facing what he terms "luxury problems".
Palace sealed a place in the Premier League on Monday after beating Watford in the Championship play-off final, and with it secured a reported £120m windfall in television money and other income.
Parish said before the Watford match that the revenue would be "transformational" for the club.
And he now faces the task of trying to build on the club's success, developing a plan to improve Selhurst Park and attempting to avoid relegation next season.
"We've done a lot of projections and we've got ideas of the things we need to do and have to do," Parish told BBC London 94.9.
"It has certainly changed the shape of my summer. It will be a lot more work and a lot less holiday but this is where we wanted to get the club to.
"Now what we want to do is achieve something that the owners in recent times haven't managed to do, which is to stay in the Premier League. It is probably a tougher thing to do than getting there.
"I used to be in advertising and we had a great term, which is 'it is a luxury problem'. They are luxury problems and fantastic ones to have.
"We want to make sure we are prudent and improve all areas of the operation so that we are stronger.
"If we do end up back in the Championship we want to be a stronger, better, bigger club because of our time in the Premier League."
Parish has accepted that the club will have to make "significant investment" in the playing squad following their promotion to the top flight.
Just hours after Palace won at Wembley, one bookmaker installed the Eagles as favourites to finish bottom of the Premier League table next season while manager Ian Holloway admitted that his side will be "on a hiding to nothing".
"We will definitely need to strengthen the squad," said Parish. "We will be making sure we don't spend all the money in that area. It is important we get a legacy out of this for the football club.
"Our intention is to stay there and the bulk of the resources will be aimed in that direction.
"The players we have got were playing for the chance to play in the Premier League.
"We will definitely be giving those guys a chance and be adding to that in the right way with the right characters. That is the skill of it."
Parish says he will work closely with Holloway to make sure Palace take the right approach in the transfer market.
"I think you have got an important role to play as chairman because you need to help manage the finance," he said.
"I have gone on record to say that, in the past, Crystal Palace have made some horrendous decisions in the transfer market.
"For me, I do have a point of view and I have got to safeguard the club. These things are worked on together.
"Of course, in the end, the manager is the person who has to pick the players. But if a player wants a particular contract and we feel it is not right then all of that is discussed and debated together.
"Ian has a great scouting network and a reputation for finding hidden nuggets. I am sure we will have some exciting prospects."
The Palace board will also have to consider the issues surrounding the redevelopment of Selhurst Park.
Two years ago Parish unveiled plans to move to the National Sports Centre at Crystal Palace but he now accepts that remaining at Selhurst, the club's home since 1924, is more practical.
Parish describes their plans as "embryonic" but expects them to be accelerated following promotion.
"It is a lot of work and not a core area of expertise for me," he said. "I care passionately that we get it right.
"There is a lot of juggling to do with the numbers, lots of stuff to ponder on and then lots of action to take."
Selhurst Park holds just over 26,000 fans but Parish believes the club must increase both capacity and potential commercial and corporate income on match-days in order to be capable of remaining in the top flight.
"It is difficult to have a sustainable future in the Premier League without 35 or 40 thousand seats," he added.
"When you think about it, everybody gets the TV money. It is no real advantage as you all get the same.
"If we can get a 35,000-40,000-seater stadium, because of where we are geographically and the yield we can get on tickets, we would be in the top half of the Premier League revenue-wise.
"That has got to be the aim. Nobody would have imagined three years ago that we could even be sitting here with any possibility that any of those things could happen."
Parish stresses that promotion to the Premier League gives the club a golden opportunity to progress, while also increasing their supporter base.
"We have completed one stage of what is a reasonably long-term plan for the club," he said.
"Football is a game of snakes and ladders. We are up a ladder and there are lots of snakes along the way now that could put us back again.
"But we do have that money over the next four or five years, whatever happens. We have to use that money to improve the club.
"We want to create a lasting legacy for the area and there is positivity around the boroughs of Croydon and Bromley. We hope to capture the hearts and minds of the supporters we have maybe lost to Premier League clubs.
"We have got a catchment area of 900,000 people with no other professional club around us. We sold 33,000 tickets in three days for the final and it is all there for the taking.
"I think we can create something quite amazing within the borough and that is what we are committed to doing. It is exciting times but there is pressure as well.
"There is a lot of responsibility to not mess it up, basically."
Steve Parish was interviewed by BBC London 94.9's Emma Jones.