Fifa to appoint first woman to its executive committee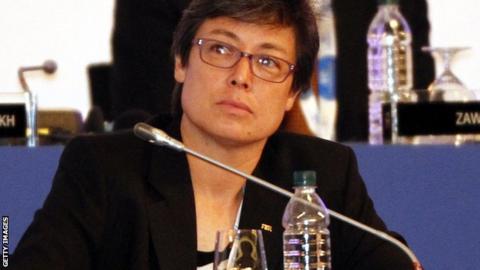 Fifa will elect a woman to its powerful executive committee for the first time in its history this week.
Former Australia international Moya Dodd is one of three women vying for a four-year term as a Fifa executive.
"I would hope I could contribute something, not just for women's football but for women in football," Dodd, 48, told BBC Sport.
Her election rivals are Burundi's Lydia Nsekera and Sonia Bien-Aime of the Turks and Caicos Islands.
New Zealand's Paula Kearns was also a candidate but withdrew from the race on the eve of Friday's vote.
Her absence means that all three remaining candidates will serve on the executive committee - one as elected member for four years and two as co-opted members for one year.
Nsekera already has experience of the executive committee, which is the decision-making body of Fifa, having been co-opted for one year at the last congress in Budapest.
Dodd is convinced female representation on the executive committee can only be a good thing.
"Can you imagine a family or a society or a workplace with no women in it?" said the lawyer, who played in the first Women's World Cup in 1988. "It would be much the poorer for it. Football is the same.
"It's a very exciting time to be part of football and a part of women's football. I really do think we're on the edge of something good."
Earlier this year, Alexandra Wrage, a reform adviser for Fifa, resigned in protest over what she saw as a "neutered" reform process launched in response to the various scandals to hit world football's governing body.
She also complained about the "startling" sexism she had encountered from leading Fifa officials.
Dodd is aware of Wrage's comments and says she is determined not to be a token appointment if she is elected.
"This position is a great opportunity for a woman to make a definitive contribution at the highest level," said Dodd, who currently serves on the Asia Football Confederation's executive body.
"If you want to be a token presence, then that's what it'll be. If you want to be actively engaged in the best interests of the game, to work with your colleagues from around the world, then that is a great opportunity."
One of Dodd's aims is to improve women's access to the game.
She has been involved in developing a "safe" head scarf that would allow women players to abide by Fifa's playing regulations and still conform to cultural values.
"There are 650 million Muslim women in the world," said Dodd. "Now, if they're good enough, they can play in a World Cup final. That's what football is all about. It fuels the dreams of millions of people."
And such is the "extraordinary" growth in the women's game, says Dodd, that it should not be unthinkable for a Premier League team to appoint a female manager in the future.
"In Europe, there are dozens of female pro-licensed coaches," she said. "Most of them aren't really considered, at this point in time, for roles in men's football, but why not?
"What's a good coach? A good coach is someone who is a good teacher, a good people manager, a good tactician and a good leader.
"Women have shown themselves to be good at all those things, so why wouldn't they be good at coaching?"