Burundi FA chief Nsekera among candidates for Fifa job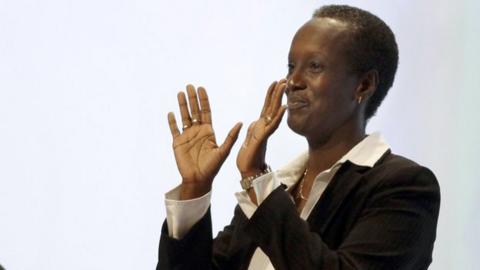 Burundi FA chief Lydia Nsekera is among three candidates vying to be the first female full-time member of Fifa's decision-making executive committee.
Fifa is set to elect a female representative for a full four-year term in this year's congress in Mauritius, which starts on Thursday.
It means a woman will have voting rights for the first time in the 109-year history of the governing body.
Nsekera was co-opted on to Fifa's non-voting committee last year.
She said at the time she was "very pleased that Fifa put a woman in its board of directors" adding "it's a very positive thing, especially for women fans of football".
Nsekera, who has headed up the Burundi FA since 2004, is considered the favourite to win the upcoming election.
She faces competition from former Australia international and vice-president of the Asian Football Confederation, Maya Dodd, as well as Sonia Bien-Aime of Turks and Caicos Islands.
New Zealand's Paula Kearns was also to be considered but withdrew on the eve of the vote.
Her absence means that all three remaining candidates will serve on the executive committee - one as elected member for four years and two as co-opted members for one year.
Football's world governing body decided to place a woman at the top level of football administration as part of its reform process, which was prompted by the series of scandals surrounding bidding for the right to host the 2018 and 2022 World Cups.