England's tactics a step back to the dark ages - Gary Lineker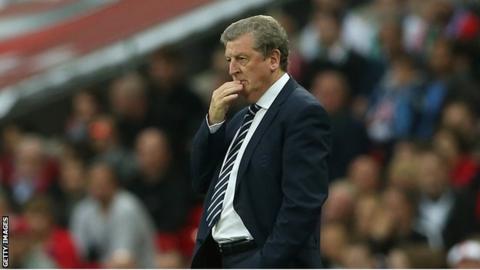 Gary Lineker described England's tactics against Republic of Ireland as "a step back to the dark ages" as Roy Hodgson's side were held to a 1-1 draw.
Hodgson opted for a 4-4-2 system but his players produced a lacklustre performance at Wembley against Giovanni Trapattoni's side.
Former England striker Lineker won 80 international caps between 1984 and 1992, scoring 48 times.
"Brazil will thrash us if we line up the same way," he wrote on Twitter.
"Even though results haven't been great, I felt tactically England were maturing, but this is a step back to the dark ages of two lines of four.
"Don't like England playing this system. So easy to play against. Predictable and dated.
"It's not about playing in straight lines, it's about playing between the lines. Depth gives flexibility, passing alternatives, creativity."
Since losing to Italy in the quarter-final of Euro 2012, England have mostly used a more flexible system. In the 10 games since that defeat, England's record is five wins, four draws and one loss.
However they sit second in their World Cup 2014 qualifying group with four games to go, two points behind Montenegro.
Hodgson, whose side meet Brazil in Rio on Sunday, defended his strategy against Ireland, saying: "I can't be too disappointed with the way we tried to win the game.
"We were probing, trying all sorts of ways of getting around them.
"In terms of what we're asking the players to do, there were a lot of positives."
However, Match of the Day presenter Lineker was not alone in his criticism of England's laboured performance.
Former Tottenham manager David Pleat told BBC Radio 5 live: "What England lack, and it's easy to say this without Jack Wilshere, is a clever midfield player who can open the door: a Glenn Hoddle, a Paul Gascoigne, even a Chris Waddle.
"Overall, it was a stiff performance.
"It lacked movement and variation. The media will have their say but the only thing that counts is what Roy Hodgson concludes from the game.
"It would be terrible if England didn't qualify for the World Cup next year. They're not in the hardest group but they've slipped up [in qualifying]."
Former England defender Danny Mills told 5 live England were "too predictable".
"When you look at it as a whole, I understand Gary Lineker's comments," he said. "Going back to a 4-4-2 - we haven't seen that for some time. But it's not really positions that make a performance, it's players.
"If anything, England were a little bit rigid at times. Also, you have to look at the personnel available to Roy Hodgson. When you look at the players that were on the bench, it is pretty weak.
"If Brazil are on form at the weekend then I worry that Roy Hodgson's side will be taken apart."