Luis Suarez: Liverpool striker would be interested in Real Madrid
Last updated on .From the section Football1152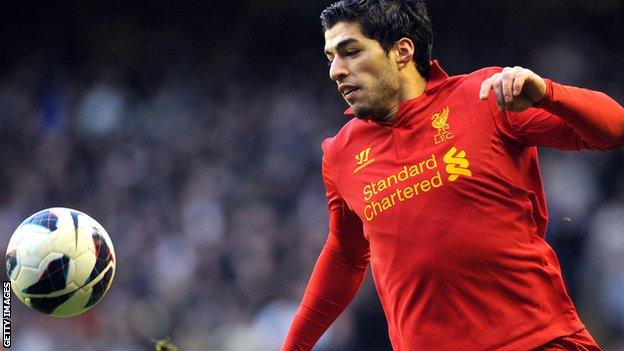 Liverpool striker Luis Suarez says it would be "difficult to say no" to a move to Real Madrid.
He told Uruguayan radio station Radio sport 890: "It would be very difficult to say no to Real Madrid."
Suarez added he was "not prepared to continue suffering at the hands of the English journalists".
The suspension Suarez was handed for biting Chelsea's Ivanovic came 16 months after he received an eight-match ban for racially abusing Manchester United's Patrice Evra.
Suarez, who joined Liverpool from Ajax in 2011, admitted the criticism he has received from the English media has made him "tired".
The Uruguay international continued: "I'm happy at Liverpool thanks to the fans. I have committed an error. I am human. But [the media have] talked about me in ways they shouldn't have.
"My family have suffered and things have gone beyond the limits.
"I am tired of it. My daughter and my wife have suffered. I'm not prepared to continue suffering at the hands of the English journalists.
"I suffered a lot as a kid to get where I am just to be attacked unfairly by the English press. They haven't appreciated me as a player. They've just judged my attitude.
"There are a lot of rumours in the transfer period, but you never know until firm offers are made. I've talked to my agent. There's nothing concrete."
Earlier this year, Liverpool managing director Ian Ayre said he was 100% certain the club would be able to keep hold of Suarez if interest came from a Champions League club.
He told BBC Breakfast: "We love Luis being at Liverpool, he loves being at Liverpool and we fully expect him to be at Liverpool next season."
Suarez has also spoken of his happiness at Anfield, saying in March 2012: "There are a good few years left on my contract. I want to carry on enjoying myself because both my family and I feel really happy here."
Former Liverpool midfielder Ray Houghton, who made more than 200 appearances for the club between 1987 and 1992, feels Suarez should stay at Anfield.
"Liverpool brought him in, nurtured him, gave him the opportunity and he has flourished," Houghton told BBC Radio 5 live.
"His form for Liverpool is why Real Madrid are looking at him. I think he might owe Liverpool one more year to see if he can get them into the top four.
"You look at his form for Liverpool this season and with the goals he scored, he was their saviour.
"Liverpool hope to eventually win the Premier League but if Luis Suarez leaves then it will be very difficult for them to do that."