England boss Roy Hodgson happy after draw with Republic of Ireland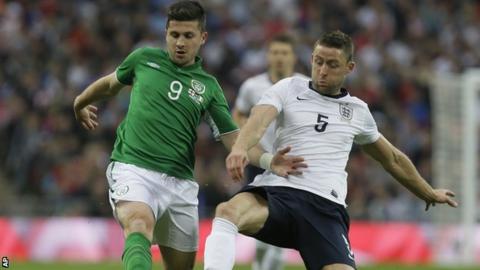 England manager Roy Hodgson said he was happy with his side's progress after being held to a disappointing 1-1 draw by Republic of Ireland.
Hodgson saw his side fail to win at Wembley once more as the Republic extended an unbeaten record against England that goes back to 1985.
"I can't be disappointed with the way we tried to win," said Hodgson.
"I knew it would be a tough test and it was even tougher than I could have imagined."
England now head to Rio de Janeiro to face Brazil on Sunday after Frank Lampard's 29th goal for his country gave them a draw after Shane Long put the Republic ahead.
The last meeting between the two countries was abandoned after crowd violence erupted at Lansdowne Road in 1995.
After Wednesday's match was played before a noisy but peaceful crowd, Hodgson said: "I thought the fans were magnificent. Both sets of fans were vocal but behaved very well and supported their teams.
"The only thing which stops this evening being a really good evening is that fact that we didn't win the game."
Hodgson revealed that Liverpool striker Daniel Sturridge will be sidelined "for a period of time" after he hurt his ankle and was taken off on a stretcher before half-time.
He said: "It is a serious one but I don't want to be quoted on how serious. It is the type of injury that's going to keep him out for a period of time.
"I don't think anything is broken.
"It is a major blow for us. We have got Jermain Defoe with us but he has missed the last part of the season and is not 100%.
"Sturridge had started the game so well and with Daniel Sturridge in top form we could have created even more goal chances."
Hodgson also defended Wayne Rooney's subdued performance, saying: "He was very much involved in most of our attacking play.
"I was more than satisfied with his performance. I would be hard pushed, if you asked me to be extra critical, to say something to negative about the players in our team."