Adam Rooney: Swindon Town will 'review' striker's contract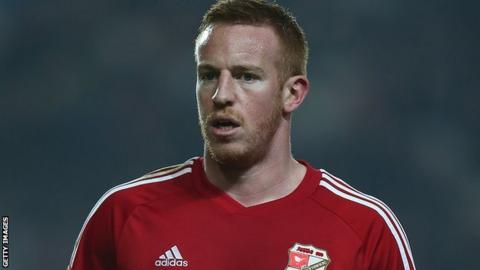 Swindon Town have confirmed they are reviewing the contract of striker Adam Rooney because of its "high value".
Rooney joined on a season-long loan from Birmingham in August and went on to agree a permanent two-year stay, which starts this summer.
The deal was made before the arrival of new chairman Jed McCrory, who led a consortium takeover in February.
"We've requested a meeting to go through Adam's contract," McCrory told BBC Wiltshire.
"We believe the value of it is quite high for a League One player.
"It's not Adam's fault and we want him at the club but we weren't here when the contract was done so we want to go through it."
Rooney made 33 appearances during the League One season, scoring 10 goals.
The decision to review of the Irishman's new deal comes three weeks after Swindon announced they are to reduce their budget for next season.
It is thought the club had a wage bill of around £4.5m this term, and will be reducing it to just over £2m.