Rangers confirm no links between Craig Whyte and Charles Green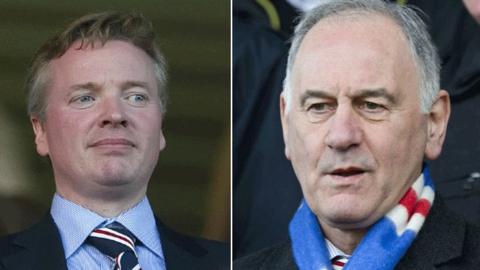 Rangers have confirmed that an independent investigation has found no evidence that former owner Craig Whyte invested in the current Ibrox set-up.
the findings of the report commissioned by Rangers' board.
The Ibrox club have now confirmed the decision to the Stock Exchange but say details of the report's findings will remain private and confidential.
Links between Whyte and the consortium that bought Rangers were probed.
The inquiry, which was carried out by law firm Pinsent Masons and overseen by Roy Martin QC, investigated claims made by Whyte of his involvement in the Green-led acquisition of Rangers' business and assets last summer.
The Scottish businessman's allegations were denied by Green, who subsequently resigned from his role as chief executive of the club.
"Based on the assessment of the available evidence, the company considers that the investigation found no evidence that Craig Whyte had any involvement with Sevco Scotland Limited (now called The Rangers Football Club Limited), the company which ultimately acquired the business and assets of The Rangers Football Club PLC from its administrators," said Rangers' Stock Exchange statement.
"Nor which would suggest that Craig Whyte invested in The Rangers Football Club Limited or Rangers International Football Club plc, either directly or indirectly through any third party companies or vehicles.
"Pinsent Masons' and Roy Martin's reports to the company are confidential and legally privileged.
"This announcement is not intended to and does not serve to waive privilege in the contents of the reports which remain confidential and legally privileged."
Whyte claimed he was behind the company that bought the assets of the club for £5.5m in June last year when Rangers were consigned to liquidation.
His claims were accompanied by taped recordings between himself, Green and then commercial director Imran Ahmad.
Green denied he had ever been a "front man" for Whyte - who received a life ban from the Scottish Football Association over his running of Rangers - and claimed he and Ahmad had told Whyte what he wanted to hear because they needed his co-operation to acquire shares if the club had secured a company voluntary arrangement.
Rangers also said they would be challenging strongly a threat of legal action from Whyte and his business partner.
"On 28 May 2013, a letter before claim was sent to (inter alia) The Rangers Football Club Limited and Rangers International Football Club plc on behalf of Craig Whyte, Aidan Earley and (purportedly) Sevco 5088 Limited," said the club.
"The Rangers Football Club Limited and Rangers International Football Club plc will be preparing a robust response to the letter before claim.
"However, given that legal proceedings are threatened in the letter before claim, it would not be appropriate to make public any further content from the report or to comment further about the contents."