Coventry City: Sisu in for 'long haul' - Tim Fisher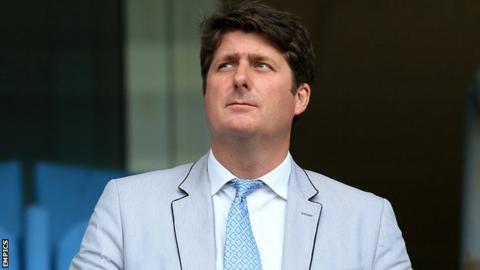 Coventry City chief executive Tim Fisher says the club's owners Sisu are with the Sky Blues for the "long haul".
The League One side have been in administration since March when they were deducted 10 points by the Football League following a High Court hearing.
The club's administrators have received approaches from two interested parties.
But Fisher told BBC Coventry & Warwickshire: "It's a 10-year horizon. Let me be absolutely crystal clear, Sisu are in for the long haul."
Coventry's administrators - who have set a deadline of 31 May for all bids to be received by - have been approached by an Asian consortium and American tycoon Preston Haskell IV as they looked to offload the troubled club.
Joint-administrator Paul Appleton has admitted that the confusion over who owns the club's Golden Share - which entitles them to membership of the Football League - has been a complicating factor in selling the club.
Sisu argue that Coventry City Holdings Ltd, the division of the club not in administration, hold the Sky Blues' assets, staff contracts and the Golden Share and are thus the football club.
However, after Coventry City FC Limited was put into administration, the Sky Blues were subsequently deducted 10 points by the Football League, who believed it owned the Golden Share.
Sisu initially appealed against the decision to deduct the club 10 points, though later withdrew its complaint.
And Fisher added that the process is proving to be detrimental to his club's preparations for next season.
"The administration process goes on and that has an impact on putting together the squad," he commented.
"[Manager] Steven Pressley is very clear in his mind which players he wants, and clearly we can't go and get them until we come out of administration and come out of the transfer embargo."