Dundee boss John Brown censured over referee criticism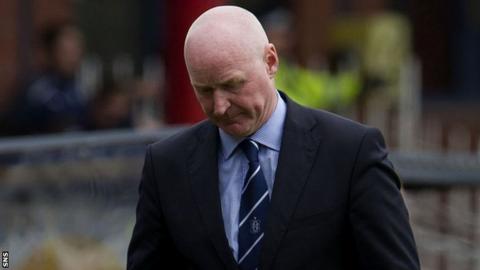 Dundee manager John Brown has been censured by the Scottish FA for criticising a referee.
Brown described Alan Muir's decision to award a penalty in the draw with Aberdeen as "shocking".
The 51-year-old, who was offered a one-match ban, had threatened to quit football should he be disciplined.
The SFA's judicial panel censured Brown for his comments, whose side have been relegated from the Scottish Premier League.
Niall McGinn converted from the spot and
Despite Brown's threat to quit the game, Dundee chief executive Scot Gardiner said he would be at the club "long-term".
Speaking earlier this month, Gardiner said: "His first instinct was to stick to his word. He said how can I work in a game where you can't be honest and speak your mind?
"So his first instinct was to stick to his word which was to walk away from the game completely, but I made it clear that I wouldn't accept that and that if he was intending to resign, which was what he was intimating, that I was not going to accept."