Aiden McGeady uncertain of future at Spartak Moscow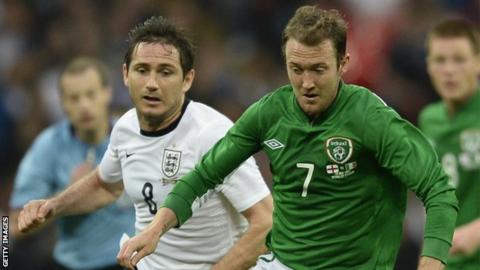 Former Celtic winger Aiden McGeady thinks Spartak Moscow may prefer to sell him this summer as he enters the final year of his contract in Russia.
The 27-year-old, who played for the Republic of Ireland in Wednesday's , has been linked with several Premier League clubs.
"I am happy there just now," he said of the Russian top-flight club.
"Maybe Spartak want to cash in on me now because if they don't, there's a possibility I could leave for nothing."
Glasgow-born McGeady admitted there was bound to be speculation, especially as he said some time ago he is unlikely to sign a contract extension.
But McGeady, who joined Spartak in a £9.5m transfer from in August 2010, stressed his happiness with the side who finished fourth in the Russian Premier League to qualify for the Europa League play-off stage.
"When I came back into the team in March when I got fit again, I was probably playing some of the best stuff I have played since I went there and I was happy with everything," he said.
"I am easy. I have enjoyed it and we will see what happens."
McGeady met up with the Ireland squad after playing what could prove to be his last game for Spartak last weekend in a 2-0 final-day victory over Alania Vladikavkaz.
He was initially earlier this month following his dismissal in a 2-1 defeat away to Mordovia Saransk. The suspension would have led to him missing the start of the new campaign, but it was eventually reduced to two games.
McGeady later admitted kicking a TV microphone as he headed for the dressing-room - but denied making a gesture towards fans - and was also accused of damaging a dressing-room door.
"It was blown out of proportion a little bit," he said. "It's funny how the media always concentrate on the negative things.
"You don't see that many positive things coming out of Moscow.
"I got a six-game ban for basically doing nothing. Obviously Spartak felt the same as me and it was reduced to two. When do you see a six-game ban reduced to two?
"I am just glad it was quashed."