Neil Lennon best to stay at Cetlic, says Bertie Auld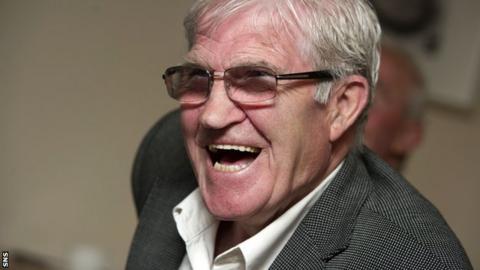 Former player Bertie Auld believes manager Neil Lennon would be going to "a lesser club" if he left Celtic.
Lennon has led the side to back-to-back Scottish Premier League titles and this season also clinched the Scottish Cup.
"Neil's a big part of the club at this particular moment," said Auld, who won the European Cup with Celtic in 1967.
"There's talk about him going elsewhere. But why go to a lesser club? Money isn't everything. I don't think Neil's short of a few quid."
Former Leicester City player Lennon has hinted that he would like to manage in England at some point.
But Auld believes some of clubs that have been linked with the Celtic boss would not offer the same prestige as his current
"Some of these clubs are headaches and you're looking over your shoulder," added Auld.
"If Celtic had a 100,000-seater stadium, they'd have 90,000 season tickets, and they would support whoever managed it.
"So why give it up just to change for a few quid?"