England: Roy Hodgson responds to Gary Lineker's criticism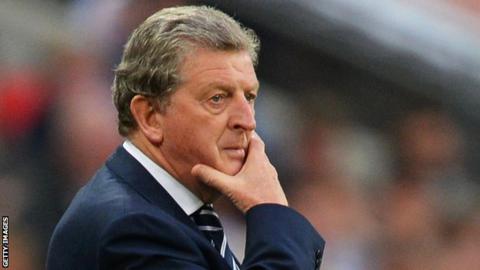 Roy Hodgson insists his England team are on the right track despite Gary Lineker's criticism in the wake of the 1-1 draw with Republic of Ireland.
Ex-England striker Lineker said using a 4-4-2 formation on Wednesday took the team "back to the dark ages".
He warned Brazil would "thrash us" in Sunday's Rio friendly, should the game go ahead, if the tactics are repeated.
When informed of those comments, Hodgson said: "Oh well, that's a pity. I thought we played well."
England are second in their World Cup 2014 qualifying group with four games to go, two points behind Montenegro.
Asked about his side's chances of qualifying for next summer's tournament in Brazil, Hodgson said: "We will wait and see. But you're asking me the question, do I believe, from what we saw against Ireland, that we are on the right track - and the answer is 'yes'.
"Other people will have other opinions. They're entitled to them and welcome to them."
Hodgson added: "What is the dark ages? Basically I suppose we were playing the two front players and asking at least one of those front players, when we lose the ball, to make certain he drops down and helps out in midfield.
"Just like Borussia Dortmund did and did very well in the Champions League final. Just like we've done in the past.
"I don't know that our system has changed that much throughout. The principles we work on certainly don't change.
"As far as I'm concerned I thought our attacking play, especially in the second half, was actually quite good. All that was missing was the icing on the cake of a second goal."
Hodgson insisted he was not comparing England directly to Champions League runners-up Dortmund, saying: "I'm just talking 4-4-2s, actually. I'm not comparing us to any team. I don't think we play like Borussia Dortmund.
"I think we play like England. We play up to the principles that we work on in the training sessions.
"And on Wednesday, as opposed to the last performance [the 1-1 draw in Montenegro] when I was less satisfied, I went away thinking that the way we attacked, passed the ball and moved, and attempted to get in behind the opponents, was the right way to do it and our defending was very solid.
"We won the ball back very quickly, our players tracked back pretty well and while we played two front players we didn't get outnumbered in midfield at all, we had the numbers in there due to the fact that Wayne Rooney and the others up there tracked back."
Responding to the criticism of England's display, he added: "I'm never surprised by what things are said and done, to be perfectly honest. I can only come in here and answer the questions and tell you what I think.
"I'm not attempting to change your opinions. If you think it was a poor game or we played poorly, then you go away and write it.
"Don't expect me to sit here and satisfy you by agreeing because I think we played quite well. I thought a lot of the things we did were good. And the only thing that stops me being happy was that it was 1-1 rather than 2-1."