Gary Harkins may exit amid Dundee ownership uncertainty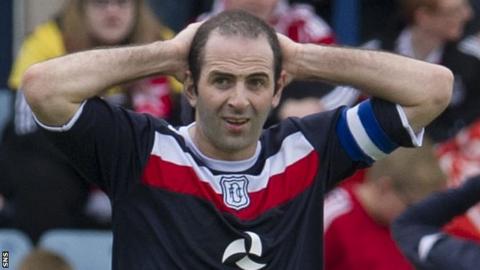 Gary Harkins has hinted the uncertainty over ownership of Dundee may lead to him leaving the club.
"I'm a bit uncertain about how things are going with the club now that the American bid has been knocked back," said Harkins.
"I'd prefer a bit of stability. I don't know what's going to be happening yet."
Harkins, who originally played for Dundee between 2009 and 2011, rejoined the Dens Park club in January from Kilmarnock.
However, the Dark Blues were ultimately relegated from the Scottish Premier League and will play next season in the First Division.
"I want to play at as high level as I can," said Harkins.
"From everything I have heard about the proposed takeover, I thought it would have been great for Dundee and help to take the place forward.
"The chief executive Scot Gardiner and gaffer John Brown have been brand new with me since I came back to the club.
"But with that [proposed takeover] falling through and directors walking, it has made everything a bit uncertain. And that makes my future uncertain, so it's something I need to think about.
"I was at the club the last time it went into administration [in 2010] and having gone through that, I want a bit of stability in my life.
"I don't think the people at the club will allow that to happen again but I would have liked to have seen the club going forward."