Monaco set to keep spending after Falcao's imminent arrival
By Matt Spiro
French football writer
Last updated on .From the section Football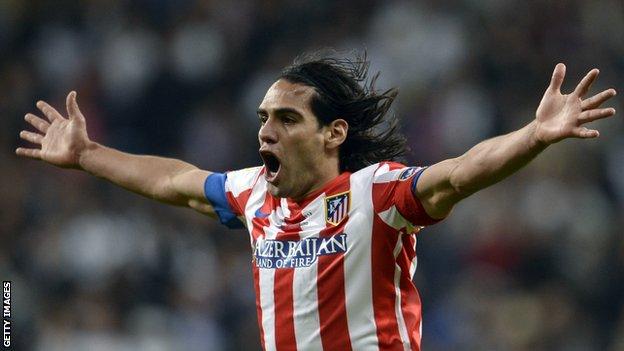 The helicopter that transports the rich and famous from Nice airport to a helipad outside AS Monaco's Stade Louis II in seven minutes flat has been rather busy this week.
Since the conclusion of last weekend's Monaco Grand Prix, a raft of high-profile footballers including Joao Moutinho, James Rodriguez, Ricardo Carvalho and Radamel Falcao have been jetted in to the tiny principality, where yachts, sports cars and casinos are a way of life, to negotiate transfers to the newly promoted Ligue 1 club.
The first two have already agreed to join from FC Porto for a combined fee of around £60m, former Chelsea and Real Madrid centre-half Carvalho has signed on a free, and coveted Atletico Madrid striker Falcao is expected to be unveiled as the most expensive recruit in French football on Friday.
Monaco's sudden, substantial and remarkably efficient spree has grabbed the attention of the football world - and it doesn't look like it will end with Falcao.
Manchester City striker Carlos Tevez, Barcelona goalkeeper Victor Valdes, Juventus and Italy midfielder Claudio Marchisio and Real Madrid's Portugal international wing-back Fabio Coentrao are also being tipped to join Claudio Ranieri's charges as the club's billionaire Russian owner Dmitry Rybolovlev continues to build.
"Our aim is to develop a beautiful team that plays beautiful football," Monaco sporting director Vadim Vasilyev told L'Equipe on Wednesday. "We'd like to recruit four, five or six top players before pre-season begins."
Historically bankrolled by the Monegasque Royal Family, Monaco and its tax-free status have attracted big-name players in the past.
Glenn Hoddle, Jurgen Klinsmann and George Weah are among those to have pulled on the red-and-white shirt and, with seven league titles, the club is one of France's most successful.
The current project, however, fuelled by the cash of Rybolovlev, promises to take them to unprecedented heights.
Rybolovlev made his fortune (estimated at £6bn) during the privatisation of Russian state-owned companies. In December 2011, the Monaco resident purchased a 66% stake in a club languishing in the lower reaches of the second division.
The Russian magnate's initial outlay was modest, yet his decision to replace the manager Marco Simone with Ranieri last summer hinted at his ambition.
Despite steering a young team to the Ligue 2 title, Ranieri's job has appeared unstable, not least because Rybolovlev's long-time target Roberto Mancini is now back on the market following his departure from Manchester City.
However, Ranieri was told last week that he is staying on and will be expected to compete with another nouveau riche club, Paris St-Germain, for the title next season.
The prospect of watching Falcao and PSG's Zlatan Ibrahimovic battle it out is whetting appetites throughout the country.
"It's brilliant for French football," ex-Monaco striker Sonny Anderson told BBC Sport. "To have two teams competing for the title with some of the best players in the world is going to be spectacular viewing."
Not everyone in France is welcoming Monaco's emergence though.
At a time when the economic downturn is hitting clubs hard, and a new 75% tax rate for top earners about to be enforced, the fiscal advantages afforded to Monaco's foreign players are grating more than ever.
When one considers that paying a foreigner a net annual salary of 1m euros will cost Monaco 1.05m euros, compared with the 3.19m euros other clubs will have to pay, it is easy to understand the objections.
Under pressure from club chairmen, the French League (LFP) took action in March, restricting admission to Ligue 1 to clubs whose headquarters are located in France for tax purposes.
Monaco have refused to comply, launching legal proceedings and claiming the LFP's decision "violates several fundamental principles of French and European law".
A ruling is expected on 20 June, but a saga that continues to divide opinions is likely to run and run.
While Monaco's status unquestionably brings an unfair advantage, the fact remains that the principality has existed as a tax haven since 1869 (although fiscal exemption was restricted to non-French nationals in 1963) and the club has been participating in the French leagues for more than a century.
"I can't understand the sudden fuss," says Anderson, a title-winner at Stade Louis II in 1996-97. "Monaco's always been about money, big names and glamour, they've always been part of the French football landscape. The club's loved by people in France, so why try to stop them now?"
Between 1994 and 1997, the Brazilian forward was among those to benefit from a healthy tax-free salary. "Let's not pretend it doesn't matter," Anderson says. "The money and the lifestyle play a big part in attracting players."
The key difference is that back then there was a limit on the number of foreign players. "There were just four of us," Anderson recalls. "Enzo Scifo, Victor Ikpeba and John Collins. Today it looks like Monaco's squad will be made up mainly of foreign players."
Monaco's current transfer activity is being carefully observed. France Football magazine claims Rybolovlev had initially intended to prioritise buying domestic players, thus pumping millions into the French game, but the aggressive nature of the lobbying by other clubs has hardened his stance and prompted a radical change in policy.
Two Portuguese (Moutinho and Carvalho) and one Colombian (Rodriguez) have already joined; a second Colombian, Falcao, is on his way.
"Falcao's the best number nine in the world," enthuses Anderson. "People say [the mooted fee of] £51m is a lot for Falcao but if you look at other fees being paid, I'd say it's a bargain."
Whether Uefa and their Financial Fair Play watchdogs agree is another matter. But Monaco, who will not be in the Champions League for a year at least, have other matters closer to home to worry about first.