Ebbsfleet United: KEH Sports Ltd close in on takeover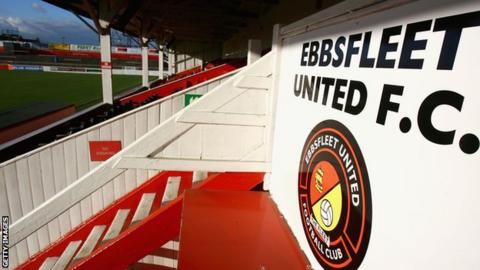 The takeover of Ebbsfleet United by KEH Sports Limited has been agreed and is on the verge of being completed.
Over 98% of shareholders have agreed to sell to the Kuwaiti group, who expect to be the club's new owners on Friday or on Monday morning.
KEH Sports have also agreed to purchase Fleet Leisure, which lifts a winding-up order against Ebbsfleet.
Peter Varney of KEH Sports Limited told BBC Radio Kent the Stonebridge Road outfit are now "completely debt-free."
"It has been a lot of hard work by a lot of people over the last four weeks and finally we have got there," Varney said.
KEH Sports Ltd, which is a newly-formed subsidiary of Kuwaiti European Holding Company, entered into negotiations with Ebbsfleet earlier this month.
With the the relegated Conference Premier club in arrears in payments to HM Revenue & Customs and facing a winding-up order from the administrators of Fleet Leisure, the MyFootballClub website, who own 75% of the shares, voted to accept the takeover.
Manager Liam Daish left the Kent outfit by mutual consent following talks with the prospective new owners and Varney says a new manager will be appointed next week.
Former Charlton Athletic defender Steve Brown is expected to be named as Fleet's new boss.
"The management team will announced on Monday," Varney said.
"We have been working hard behind the scenes to construct a new squad as every player was released under the old regime when their contracts ended. It has all been quite hectic."
As part of their takeover plans, KEH Sports Ltd proposed a transfer budget for next season of £100,000 and a wage budget of £8,000 per week as well as committing to the construction of a new stand at Stonebridge Road.
However, Varney, who has previously served as chief executive at Charlton Athletic, says a return to the top flight of the non-League pyramid is not guaranteed next season.
"The wrong thing to do would be to come in and start making predictions about the future," he said.
"The first thing to is to get the club stable. It was going to go into liquidation and we have stopped that.
"There is no debt in the club and all the investment coming into the club from Kuwait will be equity.
"What we have got to do now is to get the squad together. When you get 20-odd players in who are all new to one another, it is not easy.
"Fans will have to understand that when you do put a new squad together you can be lucky and they can gel immediately or it can take time.
"I know we will be competitive next season and we will play in an entertaining way."