Dean Holdsworth: Chelmsford budget far smaller than rivals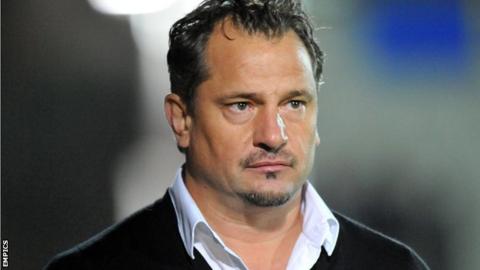 Chelmsford boss Dean Holdsworth claims his budget will be short of the club's Conference South promotion rivals.
The 44-year-old was appointed manager in mid-May, three months after being sacked by League Two Aldershot Town.
"The board know I'm a good accountant. I want it clear from day one, we cannot compete financially with Eastleigh, Sutton and Dover," he told BBC Essex.
"I know some of these clubs are paying League Two wages. I'm here as a realist and know we will not be doing that."
The Clarets finished fifth in Conference South last season, but lost in the play-off semi-finals to eventual promotion winners Salisbury City.
It was the fourth time in five years that Chelmsford have finished in the top five and then been eliminated in the first stage of the play-offs and it ultimately cost Glenn Pennyfather his job after four years at the helm.
"I know about the play-off struggles but I have been given the job of building into the club's two to three-year plan of managing the financial situation," Holdsworth continued.
"It's a big challenge but this is a club with massive potential and I hope I can help fulfil some of that.
"Primarily it's going to be about doing our utmost with the players we already have.
"But one of the reasons I'm here is that I have good knowledge of non-league and know how to be effective in the loan market so hopefully there'll be two or three additions."